Exclusive
Drinking And Signing! Brandi Glanville Admits Getting Drunk At Dallas Book Event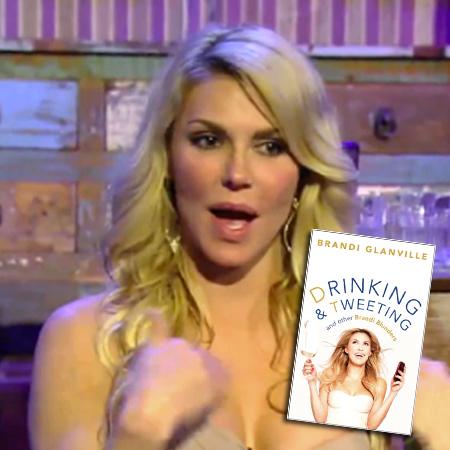 No matter what you think of The Real Housewives of Beverly Hills star Brandi Glanville, at least she's honest -- if not always entirely sober.
During an appearance Monday night on Bravo's Watch What Happens Live -- which is on location this week in Austin, Texas -- Glanville admitted she was drunk at a book signing event held in a Dallas bar on Sunday, and RadarOnline.com has exclusive new details about her 'book bender.'
Article continues below advertisement
The topic came up when host Andy Cohen read a viewer question asking Brandi if she felt she needed to apologize for coming to the event hammered.
When Cohen asked Brandi if she was in fact drunk, she first responded by saying, "No." She quickly then clarified by explaining, "I actually didn't come to my book signing drunk, I left there drunk."
"Oh, OK," a surprised Cohen responded. "You got drunk AT the book signing."
"We didn't eat all day," Glanville explained. "We had two book signings. By the end of the day, it was a sh*t show. But we hadn't eaten all day, and they're giving me rose, and I'm like 'this is great' and I'm signing.. I'm like 'whoa!' By 5 o'clock I was hammered. No food, just rose... I got through the whole line. There was like, 400 people," she added.
An eyewitness who was with the blonde beauty for the entire two hour signing at the Grapevine Bar in Dallas exclusively told RadarOnline.com: "Brandi had at least three big glasses of white wine. She started slurring her words and acting very, very silly. Brandi tried to turn on her inner-sex kitten and use a breathy Marilyn Monroe voice, but she just sounded ridiculous. Brandi wasn't eating anything, and one of her staffers was bringing her the drinks. The book signing was extremely successful, and it was very well attended. It was an odd choice to have the book signing in a bar; was Barnes & Noble not available?"
Article continues below advertisement
During another signing earlier in the day on Sunday at the swanky Bistro 31 restaurant in Highland Park Village, an upscale suburb of Dallas, Glanville "had at least two glasses of wine. Brandi also upset a nearby diner with her foul language. The diner left the restaurant with her child because she didn't want him to hear Brandi's swearing. It was surprising to hear Brandi dropping the 'f-bomb.' She sounded like a trucker," the source added.
During that same appearance on Watch What Happens Live, Glanville slammed E! talk show host Chelsea Handler, saying she can "suck it" for her ripping into the Housewives.
Meanwhile, our insider said, "Brandi knows why she is so popular -- because Eddie (Cibrian) cheated on her with LeAnn Rimes, and she is going to milk it for all she can. Brandi will continue to lash out at LeAnn and Eddie and continue to remind everyone that she was the woman scorned."