Brandi Glanville's F-Bomb Filled Rant: She Had A 'Rough' Year & Tells Haters To 'Bring It!'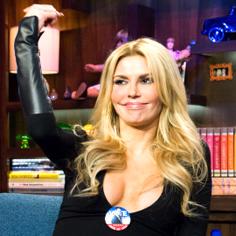 From racist comments to co-stars saying she needs rehab, Real Housewives of Beverly Hills star Brandi Glanville has not had the best year.
Now, she is counting down the days until 2014, revealing she is ready to put the past year WAY behind her.
"As of today I have a new outlook. No more feeling sorry for myself because I had a rough year or some pathetic, phony famewh--- can't stop talking about me and throwing bulls--- labels my way. I know exactly who I am -- and that is a good person who says stupid s-- sometimes and lives without prejudice in my life," Glanville wrote on her Bravo blog.
Article continues below advertisement
LeAnn Rimes' nemesis went on to finally admit her hard-partying ways got out of hand this year.
"I was a hot-mess for part of this season, and I fully f---ing admit that.
"I'd like to say thank you to the people in my life that love me through the good times and the rough times and who don't jump ship because I'm not having my best year," she added.
Her positive outlook came with a harsh message for her haters – and feuding co-stars -- though.
"For the assh---s that write hateful tweets or said mean things to me because I am not perfect and clearly you are, please, please, please F--- OFF, F--- YOU, GO F--- YOURSELF, AND FINALLY SHUT THE F--- UP!" she vented.
She concluded: "2014 is a new year, and it's going to be good! I can't wait for this reunion. It's about to be f---ing on!!! Bring it bitches."
Stay with RadarOnline.com for more breaking news on the Real Housewives of Beverly Hills.