Brandi Glanville: Joyce Giraud Has 'Endangered My Family & Cost Me Jobs' In Bid To Stay Relevant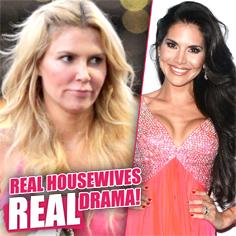 Article continues below advertisement
Listen! 'RHOP' star Wendy Osefo breaks down the "most intense fight in the show's history" in under 2 minutes.
Brandi wrote on her Facebook that "Joyce's ongoing comments, accusations and labels have endangered my family and cost me jobs, and opportunities." (Joyce's mogul husband Michael Ohoven is a film producer, and the founder/CEO of Infinity Media.)
"As a single mother, supporting my two little boys and running a household by myself I hope Joyce feels really really good about what she is doing to my family as she sits atop her mansion with her giant diamond ring and zero worries."
Brandi said she wishes Joyce "were more interesting so that trying to ruin my life wasn't her only storyline."
Brandi said that part of her tension with Joyce stems from phoniness, as she thought she ended on "good friendly terms" with Joyce following filming -- and even had a cordial run-in at a restaurant -- only to find her arch-rival verbally incinerating her "the second any press would listen."
Article continues below advertisement
Joyce was "giving interview after interview about me needing rehab or me being prejudice or anything me and all negative," which Brandi said "speaks volumes about her need for attention her vicious ambition and her true colors.
"I really hope this woman can stop obsessing over what she thinks my issues are and focus on the help she needs to get for herself."
Brandi did admit she was "embarrassed" for some of her behavior in the episode, adding that it was "extremely difficult for her to watch;" and that Joyce's true colors were exposed in "a defining moment" of the show this season.
"Trust me it's not pretty," she said. "I can only hope that the show decides to air it because not everything we shoot makes it in."