Brandi Glanville: 'I'm NOT Going' To Rehab … 'It Doesn't Seem Like It Would Be Very Fun'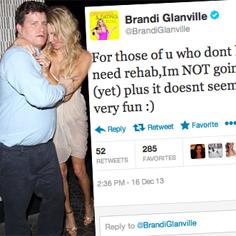 Brandi Glanville says she's not going to rehab, despite a growing concern among her peers over her fast-living ways.
The Real Housewives Of Beverly Hills star tweeted Monday, "For those of u who dont know me saying I need rehab,Im NOT going& I dont need it (yet) plus it doesnt seem like it would be very fun :)"
Of Monday's episode -- in which recovering alcoholic Kim Richards said she hopes Brandi gets help -- Brandi wrote, "Im a sloppy drunk lesbian the first half of this episode #sorry #embarassed … Im drunk and lesbionic in the first half of this episode, I didnt murder anyone!"
Article continues below advertisement
As we previously reported, the blonde beauty 86ed an attempt by Bravo producers to televise an intervention for her, as an insider told us, "She shot it down … immediately!
"Brandi didn't want to be a part of it and insisted she doesn't have a drinking problem … she didn't want her kids to see it."
Whether it's the booze or Brandi's own irreverent persona, the reality star's bold, brash behavior has raised eyebrows both in public, on camera and on social media, as at times, she's been more aggressive -- or flat-out sloshed.
Brandi has, in part, cashed in on her reputation, putting out two books with allusions to her partying in the title, Drinking & Tweeting, and the upcoming Drinking and Dating: P.S. Social Media Is Ruining Romance.