The Feud Is Back On! Joanna Krupa Says Brandi Glanville Has 'Alcohol Issues' And A 'Little Brain' After Racist Remark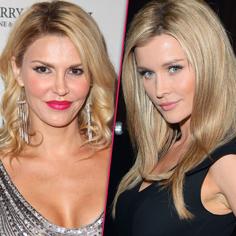 Article continues below advertisement
Following Glanville's mea culpa, Krupa slammed the reality star, adding that she needs an intervention.
"I don't know what her little brain thinks," the Polish model said. "I get it, it's reality TV and it's about ratings and maybe she feels that it's her job, but she should learn the difference between being dramatic on TV and how to be sensitive."
Krupa, who has received plenty of vile disses from Glanville, admitted that the 41-year-old model needs rehab and would stop putting her foot in her mouth -- if she stopped drinking.
"I just think she has an alcohol issue," said Krupa. "When she says stupid things it tends to be after she's had a drink. I don't know if it's for attention, but it fuels her to put people down. She really needs to understand that it's only hurting her in the end. She's not thinking."
As RadarOnline.com exclusively reported, Glanville refused to participate in a dramatic on-air intervention that was spearheaded by her Real Housewives of Beverly Hills costar Kim Richards.
Article continues below advertisement
Glanville defended her drunken debauchery, firing back at critics and costars who've claimed she needs rehab.
"There are all these articles now, like does Brandi need rehab? I've never claimed to be sober. Never. Not in my life," Glanville said during her Podcast One show.
"I do enjoy drinking. Sometimes I overindulge…" she said, referring to the night she stumbled out of a Beverly Hills restaurant where she'd celebrated her 41st birthday.
During her rant, Glanville hinted that her RHOBH co-stars were to blame for some of her drinking.
"There are a couple ladies on the show that are going around trying to discredit me," she said. "…And sometimes with these ladies, your only friend in the room is a drink."