Exclusive
9021-Go! 'Real Housewives Of Beverly Hills' Losing Popularity, Massive Viewer Exodus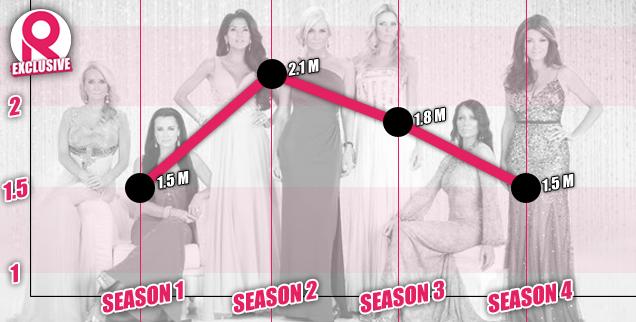 Article continues below advertisement
"But it also doesn't have the Beverly Hills factor, either. That peek into the lifestyles of the rich and famous that was such a guilty pleasure during seasons one and two."
They Make How Much?! The 23 Highest-Paid Reality TV Stars
The Beverly Hills franchise launched three years ago under a blaze of publicity and was able to attract a modest 1,534,000 viewers for its debut — when the ladies were relative unknowns.
Article continues below advertisement
They quickly found a loyal and engaging audience, but when the cast was tinkered with for season three — the additions of Yolanda Foster and Marisa Zanuck — and the ladies' bickering and in-fghting hit an all-time low, viewership plummeted.
Still, the season three premiere drew 1,809,000 viewers — more than this month's debut of season four!
The new additions to the cast, Joyce Giraud and Carlton Gebbia, so far haven't brought enough interest to the show to increase the viewers, nor has the surprising rift between former best pals Glanville and Vanderpump.
Additionally, the Beverly Hills ratings are being dwarfed by the franchise powerhouse The Real Housewives of Atlanta which is averaging (via Bravoratings.com) over 3.2m viewers per episode and showing growth of 11.45% over its prior season.
The one small piece of good news: 1,715,000 viewers tuned in for the series' second episode of season four, an improvement on the premiere.
A representative for Bravo did not return a request for comment.
Why aren't people watching the Real Housewives of Beverly Hills? Tell us why in comments below.