We Are Never, Ever Going To Be Friends Again! Joyce Giraud Slams Brandi Glanville Over Racist Remarks: Declares 'I Really Dislike Her'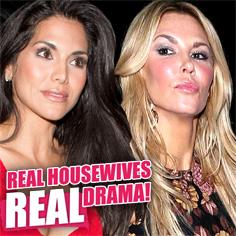 Brandi Glanville has tried to offer half-hearted apologies for her racist remark to Joyce Giraud that she didn't swim because she is black, but her co-star says the efforts ring hollow and that she really dislikes her now.
The Real Housewives of Beverly Hills ladies have been battling since Bravo aired the ill-fated Palm Springs trip footage showing Glanville mocking Giraud for not getting in the pool.
Article continues below advertisement
"What she said was racist and hurtful," Giraud said in a new interview with Life & Style magazine.
Glanville is digging in her designer heels, claiming that without her outrageous antics the show would have no story lines or attention, saying: "Honestly, if Carlton Gebbia and I hadn't kissed, I hadn't said this stupid joke and Lisa Vanderpump and I hadn't gotten into a fight, we wouldn't have a show. I'm just being honest."
However, Giraud doesn't see things the same way.
"Brandi didn't apologize and I should've said 'Pack your bags and go.' It was my trip – I was the host!"
She also says she was inclined to forgive Glanville until she began "slamming" her on Twitter once the episode aired.
It doesn't seem like those two will be getting along anytime soon, with Giraud saying: "I really dislike her."