Barron Hilton Licks Wounds From LiLo Thug Beating, In Maui With Stunning Gal Pal Vanessa DuBasso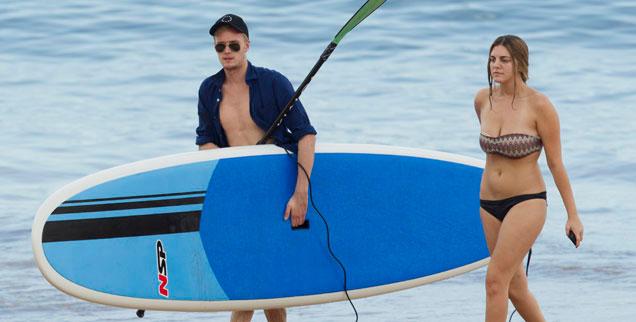 At least that was the case with Barron Hilton Thursday, as he nursed his wounds from a recent whooping, with his curvy girlfriend Vanessa DuBasso in Maui, Hawaii.
The lithe 24-year-old was snapped paddle-boarding with the voluptuous model DuBasso, 21, who took iPhone photos of her boyfriend. Barron was still sporting battle scars as result of a bloody Dec. 6 run-in with Lindsay Lohan pal Ray LeMoine during a house party in Miami coinciding with the Art Basel festival.
Article continues below advertisement
More on gorgeous DuBasso: A model by trade, she's also moonlighted as an actress in the films Student Bodies, Things Are Really Insane and There's Always Woodstock.