Amber Portwood's Brother Reveals Teen Mom's Prison Transformation: 'Her Thought Process Has Changed'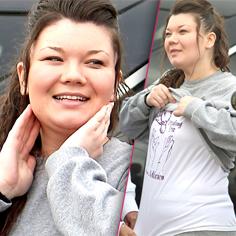 Bright-eyed and grinning, Amber Portwood looked like a new woman as she left prison after serving a 17-month sentence on Monday morning. Portwood told reporters that she'd found the strength to stay clean inside prison walls, after initially struggling with the terms of her drug program. And now, RadarOnline.com has learned, Portwood's brother Shawn Portwood is revealing just how much of a transformation he's seen in his sister since she surrendered herself to the mercy of the court.
Article continues below advertisement
The former Teen Mom "has had a lot of negative press in the past, which has portrayed her as a very hateful individual," her brother wrote in an emotional blog post earlier this year. "And she was for a while. She did not know how to control her anger or even shut up when she needed to. But now I am happy to say that I absolutely believe that it is all behind her now."
Amber had asked an Indiana judge to throw her in jail for five years to deal with her addiction issues, and the judge complied.
"After Amber was sent to prison, she had a lot to think about and a lot to change about herself," Shawn explains. "…In one of her first letters to each other, Amber wrote and said, 'I just hope you guys understand that I chose prison to help me, and to pretty much save me from myself.' She told me that she cried often …"
But she chose that route, he says, "because she did not have the strength to survive on her own and stay clean." Portwood had struggled through a stint in rehab, as well as a hospitalization following a suicide attempt.
Article continues below advertisement
In prison, she finally found that inner strength through the CLIFF drug rehabilitation program and anger management treatment.
"That is the one difference that I see in her most," Shawn says of her anger. "She does not get nearly as angry as she used to. In addition, she nearly never curses, and when she does, it is not that vulgar."
In one letter to the family, he reveals, his sister wrote, "I make sure I laugh or smile everyday here. I feel emotions: happiness, anger, and sadness, but that is still better than before when all I felt was high.
"These programs have helped her immensely," Shawn writes, "and changed her thought process, which is something she told me needed to be changed."
In addition, he says, Amber "has learned a lot about work ethic while in prison, which is something you don't really need when filming with MTV and what Amber lacked as far as what could be seen on the show."
In all, he says, prison was the perfect choice for Amber to change her life. "She has taken the steps to better herself, which is more than what many would do," Shawn insists. "It is not often that you hear about someone who has their whole life ahead of them agree to do something like Amber did, which is agree to a prison term. If you are religious then say a prayer for her. If you are hateful, then say a prayer for yourself."