Drunk Dynasty? Christian Group Cancels Event With Willie Robertson Over New 'Duck Dynasty' Wines -- Amid Reports Of Alcohol Abuse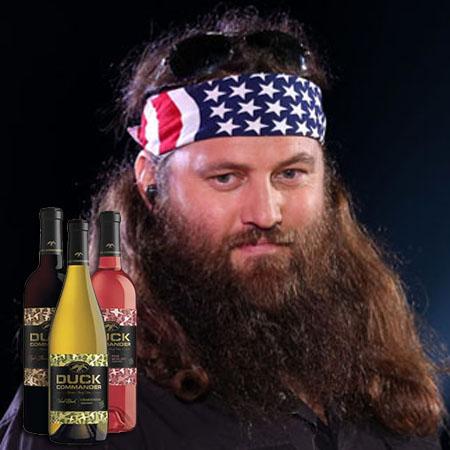 Jesus was fine with wine, but Christians are in an uproar over a new line of alcoholic beverages from the Robertson family of Duck Dynasty. One religious group has even gone so far as to cancel a scheduled appearance by Willie Robertson, claiming that he has proven himself to be an unfit role model for teens and children in the church.
Robertson was set to speak at Bristol, Tennessee's Viking Hall Civic Center on April 12, 2014, for Family Ministries, who axed the appearance earlier this week.
Article continues below advertisement
Family Ministries development director Derek Bell released the following statement on November 11: "Our greatest responsibility is to the young people we serve. Therefore, we feel that in light of the recent news that the stars of Duck Dynasty are partnering with Trinchero Family Estates in Napa Valley to launch Duck Commander Wines, to continue with this event would send mixed messages to the young people who go through our adolescent drug and alcohol program. Our message must be consistent. The lives of those children may well hang in the balance. We certainly apologize to the people who have already purchased tickets, and pray they understand our position."
Robertson had previously announced that the wines -- Triple Threat Red Blend, Duck Chardonnay and Miss Priss Pink Moscato -- would soon be available for $10 at select Walmart stores.
Besides the fact that many Conservative Christians, which the Robertsons claim to be, eschew the use of alcohol, the decision to market wine was especially surprising considering that several members of the family have admitted to struggles with alcoholism.
Article continues below advertisement
Family patriarch Phil Robertson has admitted to being "ripped for eight years" during his troubled 20s.
"We got drunk on anything we could get our hands on …" he admitted. "The only thing I seemed to be worried about were how many ducks I could kill and when my next drink was coming."
He eventually gave up drugs and alcohol and turned to the Lord to save his marriage to Miss Kay.
His brother Si, meanwhile, struggled with alcohol for many years as well, partying heavily during college at Louisiana Tech before dropping out, and then drinking himself into a stupor in Vietnam during his time in the service.
"I was largely drinking to forget where I was," he explained in his memoirs, claiming he got so drunk on several occasions that he almost killed innocent civilians for hardly any reason at all.
"I drank so much beer and whiskey in Vietnam that I decided I would quit drinking alcohol altogether once I returned home," he explains. "I saw what alcohol was doing to me in Vietnam and realized I needed to stop for good."
Like Phil, he's been sober ever since.
Do you think that the Robertsons have chosen fame and fortune over their faith? Or is their new wine line perfectly fine? Let us know in the comments!