A New Duckling For The Dynasty! Willie And Korie Robertson Reveal Plans To Expand Their Family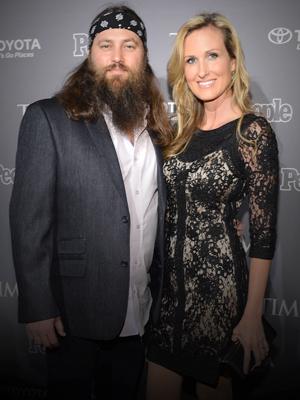 Do they make baby onesies in camo print? Duck Dynasty stars Willie and Korie Robertson have revealed they're planning to adopt yet again, according to a new report in In Touch.
The duo already have five children together, including one adopted son, Will, 11, and a foster daughter, Rebecca, 24, but admitted there's room for at least one more during an appearance at the Adoption Institute's Angels in Adoption Gala in Washington D.C. on October 9.
Article continues below advertisement
"There are plenty of kids who need homes," Willie told In Touch at the event. "That's why we're all here. We have adopted children and we have natural children … and there's no difference between them."
During his address to the crowd, he explained, "I've done a lot of things in the past couple of years. I've met presidents and been all over the world. But I still say the best decision we ever made and that had the biggest impact on our lives was the adoption of our son, Will."
It was a decision, however, that almost didn't happen.
The couple also admitted at the gala that they didn't have the money to pay Will's adoption fee when they picked him up. "We said, 'We're good for it – we'll come back,' " Willie revealed. "We've since paid it, by the way."
His wife, Korie, then described the bond she feels with her adoptive son. "From the moment we found out about him, he was ours," she told the audience. "I swear, I had labor pains the night before I went and picked him up at the foster home he was living at. He's our child, just like our biological children."
Indeed, she says she hopes that their blended family can be an example for others across the world. Korie explains, "We are proud to … use the platform we have with Duck Dynasty to talk other people into bringing children into their homes."