Brittany Murphy's Father Thinks Government Spies Killed Actress; Mother-In-Law ALSO Suspicious Of Foul Play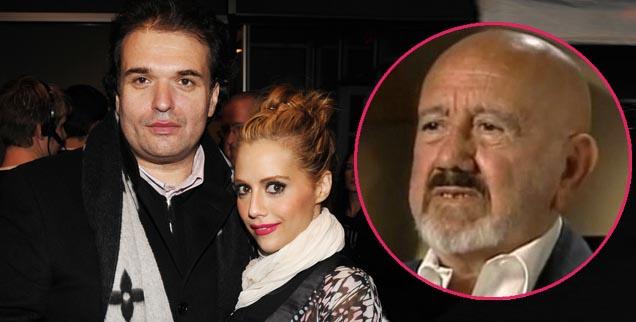 As the inquest into Brittany Murphy's death expands, the late star's father said he thinks his daughter was killed by government rogues suspicious of his daughter's support of a high-profile tipster; while her mother-in-law has joined the chorus of those skeptical with the official explanation of what happened.
Murphy's father Angelo Bertolotti continues to lobby for further investigation into the Dec. 20, 2009 death of the Clueless star at 32, and that of her husband Simon Monjack, 40, just five months later on May 23, 2010.
Article continues below advertisement
Bertolotti said his daughter was being monitored because she was a high-profile supporter of Julia Davis, a Department of Homeland Security operative who said she ruffled feathers after blowing the lid off domestic security issues regarding the entry of terrorists into the country via the bribery of customs authorities.
"They were, in fact, under surveillance, including helicopters," Bertolotti told Fleur De Lis Film Studios. "Their telephones were wiretapped, Brittany was afraid to go home, because of the sneak-and-peek incursions into their residence and other terror tactics she suffered after speaking out in support of Julia Davis and being named as a witness in her lawsuit against the Department of Homeland Security."
Davis, MailOnline.com reported, wrote on a conspiracy-related website that she, and others aware of the shady ongoings, were "subjected to land and aerial surveillance, to the tune of millions … at the expense of American taxpayers.
"This included warrantless aerial surveillance with fixed-wing airplanes and Blackhawk helicopters, vehicular surveillance, OnStar tracking, Internet monitoring, wiretaps, warrantless searches and seizures and series of other outrageous, unwarranted retaliatory measures."
Article continues below advertisement
Bertolotti and Davis are currently working on a pair of projects aimed to shed more light on the conspiracy theory: a book called Britt, and a documentary called The Terror Within.
Elsewhere, Simon Monjack's mother Linda Wednesday told MailOnline.com she thought her son's death could be tied to a bigger conspiracy, as she remembered how her son and his wife were "very, very fearful of so many things" prior to their shocking deaths.
"Simon did say he was under surveillance. He was detained by the American government because his passport had run out. He said he was followed and beaten up and he was detained for nine days.
"Brittany got him out eventually, but from then on they felt there was a deep conspiracy. There is definitely something here that's not right -- but what it is, I don't know."
Linda said she still has many unanswered questions about her son's death, noting that "there is so much in this case that hasn't been picked up on.
"At first I thought it was all part of the craziness of Los Angeles," she said, "but nothing has really been done in the right way at all."
While authorities declared pneumonia and anemia as the cause of the premature deaths, Bertolotti, 87, said Wednesday he believes the premature passings to be indicative of a "definite murder situation."
As we previously reported, the second look into the Hollywood starlet's death comes as the results of a lab report commissioned by Bertolotti that revealed an uncommonly-high presence of heavy metals, a toxic substance also detected in insecticide and rat poison.