Exclusive
Brittany Murphy's Late Husband Believed Foul Play Was Involved In Her Death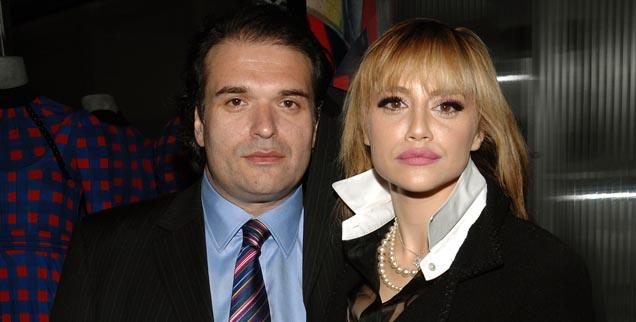 In the months following actress Brittany Murphy's shocking death, her heartbroken husband refused to believe that she died of pneumonia as the coroner stated, and exclusively told RadarOnline.com that he believed foul play was involved — just as Murphy's father claims.
After obtaining his daughter's hair, blood and tissues, Murphy's father Angelo Bertolotti had them tested for "heavy metals and toxins" and the lab reports conducted by the Carlson Company in Colorado state: "Ten (10) of the heavy metals evaluated were detected at levels higher that the WHO The World Health Organization high levels. Testing the hair strand sample identified as 'back of the head' we have detected ten (10) heavy metals at levels above the WHO high levels recommendation.
Article continues below advertisement
Monjack often spoke off someone who could be "out to get us" and even opened his home up to RadarOnline.com after Murphy's death, revealing an elaborate security set-up.
"There's actually 56 cameras that cover the house," Monjack told RadarOnline.com just two months before his own death, as he showed off his high-tech security system.
"Inside the house, outside the house, down into the cul-de-sac."
Along with the 56 cameras, Monjack also had biometric door entries and even a system that scrambles the phone lines if someone tries to record conversations.
Article continues below advertisement
Monjack told RadarOnline.com that both he and Murphy were in fear for their lives and they believed someone was watching them.
He also believed that they were in danger of someone "slipping them something," he once told RadarOnline.com.
Sadly, Monjack died at the age of 40 just five months after his wife, of the exact same thing — acute pneumonia and severe anemia.
Although Murphy was found to have a range of over-the-counter and prescription medications in her system at the time of death, because Monjack died on May 23, 2010 of the same cause, the LA County Department of Healthy considered toxic mold in their home (where Murphy's mother also lived) as the possible cause of deaths, but it was later dismissed.
Do you think foul play could have been responsible for the death of the Clueless star and her husband? Sound off below…