Was Brittany Murphy Murdered? Forensic Tests Show Poison… As Actress' Dad Blames Someone With 'Criminal Intent' For Death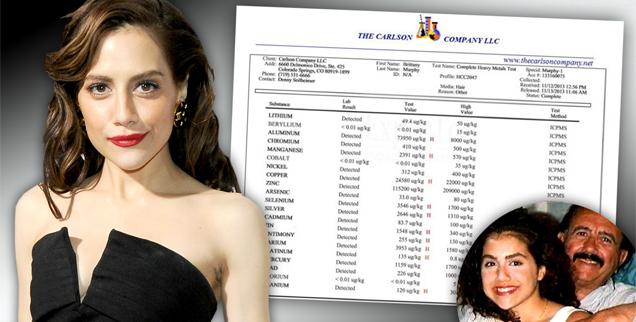 The sudden death of Brittany Murphy in 2009 was originally ruled as happening by "natural causes" despite her mother and husband's claims, and now her father has launched his own investigation and he says the shocking results prove that his daughter died of possible poisoning "by a third party perpetrator with likely criminal intent."
The Clueless star and her husband Simon Monjack both passed away within five months of each other and the Los Angeles Coroner's office ruled that they died of pneumonia and anemia, but Angelo Bertolotti obtained his daughter's hair, blood and tissues and had them tested for "heavy metals and toxins," according to the Examiner.
Article continues below advertisement
The lab reports conducted by the Carlson Company in Colorado state: "Ten (10) of the heavy metals evaluated were detected at levels higher that the WHO The World Health Organization high levels. Testing the hair strand sample identified as" back of the head" we have detected ten (10) heavy metals at levels above the WHO high levels recommendation. If we were to eliminate the possibility of a simultaneous accidental heavy metals exposure to the sample donor then the only logical explanation would be an exposure to these metals (toxins) administered by a third party perpetrator with likely criminal intent."
As RadarOnline.com previously reported, Bertolotti had to sue the LA County Coroner's office for his daughter's physical samples. The Examiner states the office said they did not test for any poisonous substances.
He spoke about his heartbreak over the reports of his daughter's death, saying: "Vicious rumors, spread by tabloids, unfairly smeared Brittany's reputation.
"My daughter was neither anorexic nor a drug junkie, as they repeatedly implied. Brittany and Simon were ridiculed by The Hollywood Reporter, when they complained of being under surveillance and in fear for their lives.
Article continues below advertisement
"I will not rest until the truth about these tragic events is told. There will be justice for Brittany."
According to the Examiner: "Heavy metals can be commonly found in rodenticides (chemicals that kill mice or rats) and insecticides. Symptoms of acute heavy metal poisoning in humans can include headache, dizziness, gastrointestinal, neurological, respiratory, or dermal symptoms such as abdominal cramps, tremors, tachycardia, sweating, disorientation, coughing, wheezing, congestion, and pneumonia. Brittany Murphy and Simon Monjack exhibited all of these symptoms prior to their untimely deaths. The levels of heavy metals detected in Brittany Murphy's hair were from 2 to over 9 times higher than the levels set as "high" by The World Health Organization."
radar_embed service=5min.com src="http://pshared.5min.com/Scripts/PlayerSeed.js?sid=1126&width=570&height=351&videoGroupID=157142&sequential=1&shuffle=0"