Exclusive
'Sleepless In Austin' Man Seeking 'Thin, White' Girlfriend Brags About Sexual Stamina -- See The Explicit Sext Messages!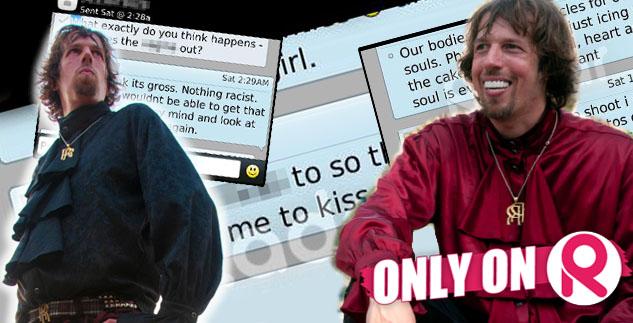 Texas bachelor Romeo Rose posted a lengthy description of his ideal girlfriend on Sleepless in Austin and offered a $1,500 pay day to the person who helps him find the woman of his dreams, who he describes as thin and white — but his Juliet better like sexting too.
In explicit sext messages obtained exclusively by RadarOnline.com and verified to be the 39-year-old Romeo, he sent more than 20 sexually charged messages to a woman in New Jersey, including three photos of his genitals (next to a photo of his ID to prove it was him!) between Sept. 28 and October 2.
Article continues below advertisement
"Romeo and I met when I texted him about his offer to pay someone $1,500 to find a girlfriend," the woman, who doesn't want her name published, told RadarOnline.com.
"He immediately began describing his anatomy in graphic detail and sending me pictures, begging to know if I was impressed. I was shocked!"
The woman tells RadarOnline.com that Romeo is "obsessed with talking about sex" and is upset at how the public perceived him as being racist after his girlfriend post compared black people to monkeys. On Sept. 28 he took the initial post down and replaced it to say he is "not a racist person" and is just not "sexually attracted to black women" -- but text messages he sent proves he thinks biracial sex is "gross."
"I don't think black men have bigger penises than whites. I've seen them in pornos so I know they are the same as whites," Romeo wrote at 2:32 a.m. on Sept. 28.
"I just think it's gross that a white woman would be attracted to a black and then be intimate with him. I just think it's gross. Nothing racist. But I just couldn't be able to get that thought out of my mind and look at her the same way again."
Article continues below advertisement
Among other sexual preferences, Romeo claims there's a difference when being intimate with a woman who has had children…and even says he's researched it online!
"I had sex once with a woman that had 3 kids, and I noticed a difference I didn't like," he wrote.
"I also researched it extensively online."
According to the woman he was sexting with, Romeo has no interest in talking about anything other than sex.
"Romeo can't stop sexting! Even when I changed the topic to get to know his personality he only wants to talk about sex and if we would be having sex in real life," she told RadarOnline.com.
"He was really pushy trying to get me to engage in sexting about teacher/student fantasies, his appetite for rough sex and bragging about his stamina won't let me talk about much else. I asked him about his interests, normal things to get to know a guy, but he just finds a way to talk about sex more."
Article continues below advertisement
Most of Romeo's sext messages are so graphic that RadarOnline.com chose to blur them.
"I would like it at least 3 times a day," Romeo says.
"When I first wake up, right before I go to sleep, and then sometime in middle of day."
Aside from bragging about his sexual stamina, Romeo also claims he has his own reality TV series in the works — since he was suspended from his job in a legal office because of the Sleepless in Austin website he started.
"A Los Angeles TV show producer emailed me today asking if I would like to work with him in creating my own reality show," Romeo claimed on Sept. 28.