Creepy Sexter Anthony Weiner Admits To MORE Online Sexcapdes With THREE Women -- After He Left Congress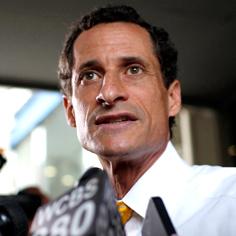 Sext-obsessed New York mayoral hopeful Anthony Weiner has confessed he shared steamy online messages with at least three women AFTER he resigned from Congress in disgrace.
The married political perv was quizzed about how many women he had sexually-charged conversations with at a press conference on the campaign trail in Brooklyn on Thursday.
"I don't believe I had any more than three," he admitted.
There weren't, Weiner added, "dozens and dozens."
Article continues below advertisement
But asked by the New York Post to clarify how many women he exchanged racy messages with while in office, Weiner said, "six to 10, I suppose -- but I can't tell you absolutely what someone else is going to consider appropriate or not."
"If people want to reveal information they are welcome to do it," he added. "I won't go back and forth with the people at the other end of these texts."
One of his online sexting conquests -- 23-year-old Indiana activist Sydney Leathers -- emerged this week after she shared her Weiner exchanges with the gossip website The Dirty.
The site published a steamy transcript of the pair shared, during which Weiner used the pseudonym "Carlos Danger".
The Dirty ramped up its Weiner coverage on Thursday, publishing the raw and uncensored crotch shots Weiner had sent Leathers in July 2012.
Still, Weiner insisted his sexual exchanges with strangers on the web isn¹t an addiction because "the people I'm working with don't believe it is."
"I want to have some modicum of privacy between me and the people that are offering me this help, but the answer is 'no,'" he said.