Exclusive
Woman In Middle Of New Sexting Scandal With Anthony Weiner: 'We Were In Love'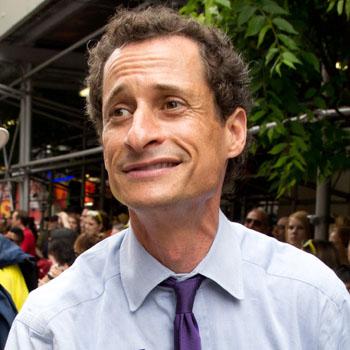 Anthony Weiner has been caught sending naked pictures and dirty text messages again and has apologized profusely to his wife but RadarOnline.com has exclusively learned that the woman he was most recently inappropriately behaving with says they were "in love" during their months long romance.
The 23-year old woman, who wishes to remain anonymous, spoke exclusively with RadarOnline.com via Nik Richie from TheDirty.com who broke the story by publishing the pictures and racy messages.
Article continues below advertisement
"We were in love," she said about the relationship that started in 2012, a year after Weiner resigned from his congressional office, sought treatment, and repaired his marriage to Huma Abedin.
"He told me he loved me on the phone a lot," she explained about their hot and heavy conversations.
The online affair began in the spring of 2012 with married Weiner reaching out to her and then aggressively pursuing her.
"I don't know how he did anything at all because he was emailing and calling and texting me all the time."
She said that their conversations were all dirty.
"It was sex talk mostly. That's all he ever wanted to do. I was the only one who had any normal feelings or emotions."
On Tuesday Weiner admitted that he was guilty of sending the recent round of naked photos and raunchy messages, but the woman says that she finally ended it when he got "pissy" at her.
"He wanted me to be available for him at all times. He would get mad at me for not answering my phone. He got really pissy. He was trying to do controlling stuff and would get jealous if he saw that other guys were being nice to me on Facebook or anything."
She admits that they never met up in person, but that their connection on line was intense.
"He never talked about his wife or his kid. It was all sex all the time. Funny, he even talked about his cats more than his family."