Standing By Her Weiner: Anthony's Wife Defends Him & Says I Believe In Him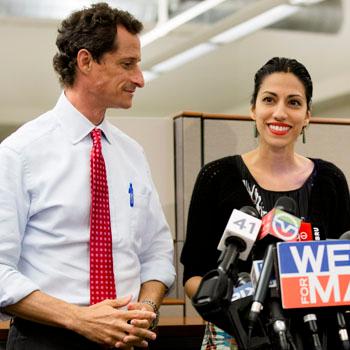 Here we go again… Anthony Weiner gave a press conference on Tuesday to address being caught once again sending naked pictures and dirty messages to a woman but shockingly his wife Huma Abedin spoke up and defended her husband and his marital transgressions.
As RadarOnline.com previously reported Nik Richie published the naked photos on TheDirty.com and revealed the explicit messages Weiner sent to a young woman and the NYC mayoral candidate was forced to admit that he had sent the incriminating evidence.
Article continues below advertisement
Facing a barrage of questions from reporters, Weiner first read the statement he had released earlier on Tuesday, and then continued to say that he is fit to be the next Mayor of New York.
He said that what he did "was wrong," and the behavior was behind him.
However, he pulled the big guns out by having his wife Huma, who appeared to be smirking while he spoke, step in to help salvage her husband's political career. She took the microphone and read a prepared statement as well.
Saying she was "very nervous," Huma said that they had struggled in their marriage.
"When we faced everything two years ago it took us a very long time to get through it," she said, referring to the first dirty photo Weiner Tweeted and the subsequent numerous women who came forward to say they had a sexually explicit online relationship with him as well.
"Our marriage has had its ups and it's down. It took a lot of work and a whole lot of therapy."
Article continues below advertisement
Huma said that it was "not an easy choice in any way. But I made the decision it was worth staying in this marriage. This was the decision I made for me, for our son, and for our family."
Despite the fact that her husband sought rehab treatment for his 2011 sexting scandal, the inappropriate behavior continued into 2012 which she acknowledged that they had addressed as a family.
Pulling an ultimate Hillary Clinton stand-by-your-man move, Huma said she will not be turning against her husband, despite the latest round of naked pictures and raunchy messages.
"I love him. I have forgiven him. I believe in him and as we have said from the beginning we are moving forward."
Weiner's statement admitted that he had continued his cheating ways while still working on his marriage.
"As I have said in the past, these things that I did were wrong and hurtful to my wife and caused us to go through challenges in our marriage that extended past my resignation from Congress. While some things that have been posted today are true and some are not, there is no question that what I did was wrong. This behavior is behind me," he said.