Caught Again! Anthony Weiner Admits He Sent MORE Naked Pictures And Dirty Messages After Blogger Publishes Them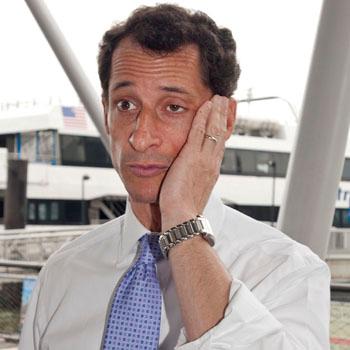 Article continues below advertisement
"My source is solid," Nik wrote on his website.
"She really thought Anthony Weiner and her were in love, they spoke on the phone daily multiple times a day for 6 months. Anthony Weiner played with her emotions and mind. Most calls were phone sex. He promised her many things including a condo in Chicago where they were planning to meet up to have sex. Anthony Weiner has a shoe fetish, particularly heels."
The shocking thing is even though he claims they were in the past RadarOnline.com has confirmed they were sent in 2012, a year after his first scandal took place.
"I am just doing my job," Nik Richie exclusively told RadarOnline.com about publishing the scandalous pictures and messages.
The text messages are eerily similar to the ones Weiner sent to multiple women in 2011, as RadarOnline.com exclusively reported.
Article continues below advertisement
His statement on Tuesday seemed to imply that his indiscretions took place even after he was forced to leave his job, but Weiner claims that he doesn't misbehave any longer.
"As I have said in the past, these things that I did were wrong and hurtful to my wife and caused us to go through challenges in our marriage that extended past my resignation from Congress. While some things that have been posted today are true and some are not, there is no question that what I did was wrong. This behavior is behind me."
Weiner sought treatment for his addiction following the scandal.
His wife Huma Abedin has stood by his side and was pregnant with their first child when the scandal broke. She gave birth to their son, Jordan, on December 11, 2011.
She recently hosted a fundraiser for her husband with women in New York City trying to help him get elected as Mayor of the city.
The woman Weiner sent the messages to told TheDirty.com that she does not believe he is a changed man.
Article continues below advertisement
"And to be totally clear, I did not sleep with him or receive any funds from him. I've seen comments stating otherwise and they are all totally false. I think it's important to reiterate the fact that all of this happened with him after his first scandal, so all of his campaign promises about being a changed man are absolute lies."
Weiner's statement continued about his wife: "I've apologized to Huma and am grateful that she has worked through these issues with me and for her forgiveness.
"I want to again say that I am very sorry to anyone who was on the receiving end of these messages and the disruption that this has caused. As my wife and I have said, we are focused on moving forward."