Exclusive
Rep. Anthony Weiner's Cyber Mistress Tipped Off Rachel Maddow To Sexting Scandal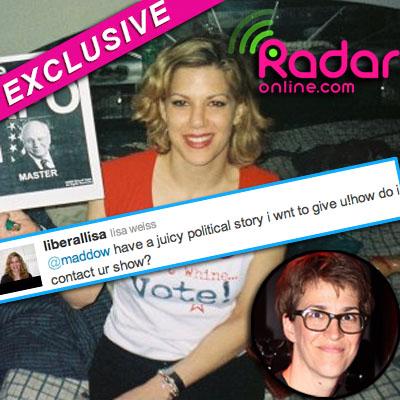 The Las Vegas woman who seduced Rep. Anthony Weiner and carried on a torrid nine month cyber sex relationship tried to expose him on a show where he was a regular guest -- MSNBC's The Rachel Maddow Show!
TWEET: See Lisa Weiss' Message To The Rachel Maddow Show Below
Before approaching RadarOnline.com and Star magazine with a transcript of her sexting exchanges, Lisa Weiss told us that she had contacted noted liberal political analyst and television host Rachel Maddow.
Article continues below advertisement
"Anthony was a regular guest on Rachel's show and I love her, so much, and her views, so I reached out to her," the blackjack dealer told RadarOnline.com.
"But I never heard back."
What's more, an analysis of Weiss' own Twitter account reveals that on June 3, the day before she first reached out to us, unsolicited, the supposed devout Democrat wrote a message to her idol, Maddow.
She said, "@maddow have a juicy political story i wnt to give u!how do i contact ur show?"
Rep. Weiner was a so-called "friend of the show," until Monday night when Maddow lambasted him on a "Post-Bill Clinton Modern American Political Sex Scandal Consequence-O-Meter."
DOCUMENT: Read The Full Transcript Of Rep. Weiner's Explicit Messages
Rep. Weiner wound up fairly high on Maddow's "creepy" axis, but fairly low on the "prosecutable" axis.
She dubbed his case "kind of creepy."
As RadarOnline.com first revealed, 40-year-old Weiss and the married congressman shared 220 dirty messages, beginning on August 13, last year, when she sent him a message to his Facebook account.
Article continues below advertisement
The next month, Rep. Weiner, 46, wrote that he was interested in meeting her face to face.
"i'm ready for a vegas trip. truth telling during the day. got a night plan for us?" Weiner wrote, according to a transcript of 220 messages published in full here.
"haha..that was a very loaded questions! i've got all kinds of night plans for us! when are you coming?" Weiss replied.
"dunno. make me an offer i can't refuse," Rep. Weiner shot back.