Miley Cyrus' Humiliation: Fiancé Liam Hemsworth Sexting Old Flame January Jones Reportedly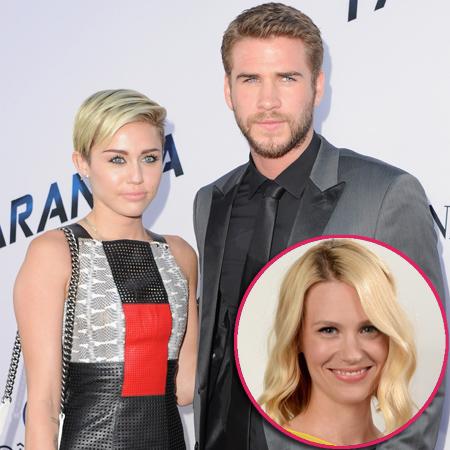 Miley Cyrus' naked antics lately aren't enough to keep her fiancé, Liam Hemsworth, happy apparently, because he sent a graphic, sexually explicit text message to, January Jones, the woman he cheated on Miley with in the beginning of the year.
As the former Disney star is shocking the world with her provocative dancing and naked music video, Liam reportedly hit send on a raunchy text message to the Mad Men star one day this summer.
Article continues below advertisement
"I want to expletive you," Liam's dirty message to January said, according to a new report in Us Weekly.
January and Liam had a hot and heavy make out session in January at a house party during Oscar season, but since then he has remained engaged to Miley, despite their strained relationship.
However, his latest sexting with January may be the end of their four year relationship.
"Liam and Miley haven't officially split, but it's over," a source told the magazine.
"It's just that neither wants to pull the trigger."
Liam's relationship with January didn't end after their earlier hookup, with a source saying she "consoled him" after he clandestinely contacted her about Miley's wild ways, though her rep said "this is absolutely untrue."
Even though they're still living together in Miley's California mansion, they spend almost zero time together, and with her album promotion and his Hunger Games promotion tour starting they're going to be apart for the near future.
"They can avoid each other a bit longer, but it's only a matter of time before they split for good," a source said.