You've Got To Hand It To Weiner! Sexting Partner Says They Had Phone Sex Seven Times A Day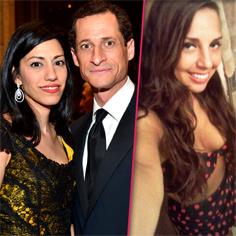 Article continues below advertisement
"It didn't take long -- he didn't have a good segue, he just went right into it," she said, admitting she was infatuated with him at the time.
"It's amazing to me because he got in so much trouble the first time around," Stern observed.
Leathers said they would both pleasure themselves when talking to each other, saying that while she found the Democrat to be "well endowed," he wasn't much in the stamina department.
Article continues below advertisement
"He was like, 'Oh yeah, thank you baby' … it was just like, 'Conversation over'" after Weiner was finished. But, Leathers added, she'd "hear from him very quickly after" for another steamy exchange.
And while she did not use the term Minute Man, she made it clear that no time was lost in getting to the end as many as seven times a day.
"You would think his (bleep) would hurt by the end of it," she joked. "How can you be mayor of New York City when you're (bleeping) like five times a day?"
"Well Clinton was president," Stern sidekick Robin Quivers chimed in.
Leathers revealed some of Weiner's sexual talk and more. She's admitted to a promiscuous past and a profitable presence on Sugar Daddy-soliciting websites over the years and now says she's looking to parlay her newfound notoriety into a lucrative sex tape deal.
She and her agent, former porn star Gina Rodriguez, said their next stop Tuesday was to Weiner's house, where they would do a photoshoot.
Article continues below advertisement
Asked by Stern if she'd be getting naughty with any other prominent politicians, Leathers said, "Chris Christie's above my weight limit."
Leathers said she came forward because she resented Weiner's duplicity in his latest mayoral campaign.
"He lured me into this situation and he didn't want to own up to it," she said, while Rodriguez chimed in, "I think people should be applauding her really, that she did this."
Applause? Let us know what you think in the comments below.