Anthony Weiner Chuckles At His Online Sexcapades During Bronx Event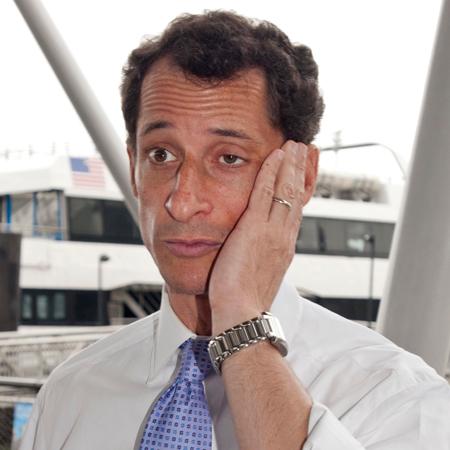 At least Anthony Weiner has a sense of humor about things.
The hot-and-bothered politician, who's currently running for mayor of New York, answered questions as part of a mayoral panel in the Bronx Thursday, when the moderator asked the panel if they prefer Facebook or Twitter.
When it came to Weiner, he and the eventgoers all burst out laughing, with regards to his sordid history of trading revealing pics with females online, which led to his 2011 resignation from Congress.
Article continues below advertisement
"Our campaign's on Twitter," he said, smiling.
In another awkward exchange at the event, rival mayoral candidate Erick Salgado took Weiner to task for using the nickname "Carlos Danger" during his online adventures.
"Using a Latino name like Carlito Peligro, what in the world was he thinking?" Salgado said. "Always a Latino, the one who gets the blame. And yes, there is a Latino running in this race -- and his name is not 'Carlito Danger.'" (The Spanish phrase "Peligro" translates to danger in English.)
As we previously reported, the Democrat's mayoral campaign took a hit this week after Nik Richie published the naked photos of the politician on TheDirty.com, revealing the messages Weiner sent to a woman.
He addressed the latest scandal in a news conference Tuesday, flanked by his wife Huma Abedin, reiterating he's still moving forward with his campaign. By his own admission, Weiner has carried on sexual banter online with as many as "6 to 10" women, some after his resignation from Congress.