Too Little, Too Late? Rielle Hunter Says She's 'Very Sorry For My Wrong, Selfish Behavior' In John Edwards Affair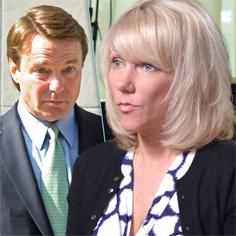 Rielle Hunter says she's sorry for her affair with former presidential candidate John Edwards.
"I behaved badly," Hunter writes in a new blog published on The Huffington Post. "That may seem obvious to you but it's taken me a long time to admit that, even to myself. For years I was so viciously attacked by the media and the world that I felt like a victim. I now realize that the attacks are actually beside the point.
Article continues below advertisement
"The point is: I behaved badly."
In her essay, Hunter said she had no idea her 2006 trysts with the then-married Edwards "could hurt so many people," in spite of his then-30-year marriage to late wife Elizabeth, who was battling cancer at the time.
Hunter writes she was thinking with her heart -- not with her head -- at the time of the affair.
"Unfortunately, I was not thinking about anyone but myself," she wrote. "I was selfish. I fell in love with John Edwards and wanted to be with him and that desire trumped everything else."
Hunter also tries to make amends for last year's memoir What Really Happened: John Edwards, Our Daughter and Me, in which she showed little remorse about the affair and its' massive trickle-down effect.
"Instead of apologizing when I should have, I went on to hurt more people by writing a book," Hunter wrote. "I truly did not realize at that time how damaged I was and because of that, when I wrote my book I made more mistakes, ones I feel horrible about."
Article continues below advertisement
Hunter goes on to say that her parents cheated on each other, setting forth "a chain of pain" she hopes not to "pass on to my own daughter" with Edwards, Frances Quinn, 5.
"I am sincerely sorry for my bad behavior, and for hurting anyone," she wrote. "If I hurt you, I am sorry. It was not my intention, I was thoughtless and selfish, and I am sorry."
Edwards in 2010 finally admitted publicly that he'd fathered a daughter out-of-wedlock with his former mistress. Shortly after his admission, John and his late wife Elizabeth legally separated. Elizabeth died that December after a 6-year battle against breast cancer.
Rielle's new book, In Hindsight, What Really Happened: The Revised Edition: John Edwards, Our Daughter and Me, is on sale now.