Khloe Kardashian & The Game Closer Than Ever At L.A. Nightclub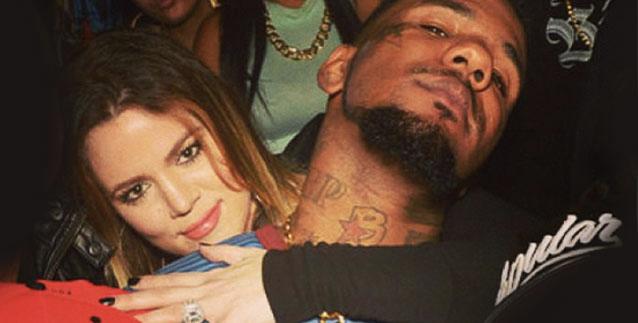 Khloe Kardashian is still wearing her wedding ring, but the hand it's on was all over rapper The Game at L.A. nightclub Roxbury on Friday night.
The duo rolled up to The Supreme Team's Friday Night Rox event together, where they drank Coconut Ciroc vodka all night, according to reports. Kardashian happily posed for pics with her arm slung around The Game's shoulders and her hand placed on his chest. She also stole his pale blue snap-back baseball hat at one point, and wore it briefly around the club.
Article continues below advertisement
Despite the fact that The Game and Kardashian have been attached at the hip in recent weeks, partying at Tru nightclub and Pinz bowling alley together, the rapper insists that he's not her rebound as she prepares to split from troubled Lamar Odom.
"Khloe is my friend," he's said. "She is like a sister. We have never slept together and will never be sleeping together."
Kardashian's estranged husband, meanwhile, was spotted reconciling with his father Joe Odom after publicly slamming his dad for speaking out about his downward spiral.
The elder Odom claimed the Kardashians were to blame for all of the NBA player's recent issues in a fiery rant and Lamar subsequently accused his dad of not being there for him his whole life.
And while it's clear he's mending his relationship with his dad, the status of his marriage to Kardashian is still up in the air. The two were spotted together on October 9, but have been apart ever since.