'She's No Cinderella': 'Evil' Kris Jenner Has Been 'Talking A Lot Of Trash About My Son,' Lamar Odom's Dad Bristles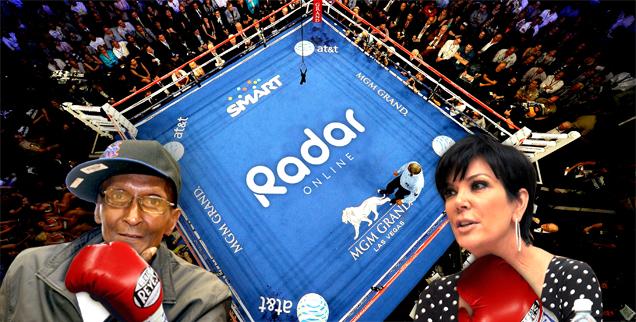 Tension in the Lamar Odom - Khloe Kardashian situation has reached a fever pitch, and RadarOnline.com has the latest salvo in the war, with Lamar's father Joe calling out Khloe's mother Kris, saying the "Momager" has been the ringleader in the parade of negativity aimed at his son the past few months.
"She's no Cinderella … Kris Jenner is very negative -- she's an evil b*tch," Joe told RadarOnline.com exclusively Tuesday, the same night Lamar spoke publicly for the first time in months. (The power forward defended the Kardashian family -- calling them "the ONLY ones that have been here consistently 4 me during this dark time" -- and said that Joe was "absent ALL of his life due to his own demons.")
Article continues below advertisement
Joe Tuesday told RadarOnline.com that he believes Kris "doesn't care about Lamar, she just cares about their image and money.
"The mother has been talking a lot of trash about my son, saying he's on drugs and stuff like that," he told us. "She's got something against my son, something against my family.
He pinpointed his blame toward "Kris, in particular," as "she's been through a lot of stuff herself.
"I can't really say if the Kardashians are doing drugs, but my son would never use hard drugs," he said. "I can't pinpoint right now who's giving it him, but I'm going to investigate. The Kardashians haven't been a good influence on my son.
"They don't give a f*ck about my son. It's more about the damage they do to the Kardashian brand. They brought him down. He'd be better off without them. Let him go, get his life together."
Article continues below advertisement
Joe was less harsh on his daughter-in-law, but still accused her of being duplicitous.
"I wish he had never got married to Khloe to be honest," Joe told us. "She's controlling. Those Kardashian women all are. You get married they think they wear the pants. You just bring them your whole paycheck, that's how it works. I saw her totally differently when I heard the way she talked privately -- it isn't pleasant.