Exclusive
Shocking Drug Scandal Behind Chris Brown's Rehab Stay: Court Documents Prove Singer Escaped Drug Test After Alleged Assault, Despite Police Protocol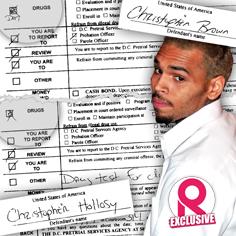 On Tuesday, Chris Brown entered rehab, reportedly to deal with his anger management issues. But is that all that's behind his need for treatment? The extent of the admitted drug user's habit is currently in question, because Brown was not drug tested at his arraignment for alleged assault in D.C. earlier this week, although a test is standard protocol in such cases. In fact, only RadarOnline.com has obtained the shocking paperwork that shows Brown's drug test was originally ordered by the court, but eventually vacated. His bodyguard and co-defendant, Christopher Hollosy, did still have to go through with the test as ordered.
Article continues below advertisement
"I don't know why Brown's test was waived," Leah Gurowitz, the Director of Governmental and Public Relations for DC Courts tells RadarOnline.com. "It's a condition of release. Sometimes it's ordered and sometimes not. But I don't know if they decided he didn't need it for whatever reason."
Brown's release form, obtained by RadarOnline.com, is no more forthcoming, showing only that the test was initially ordered, but then removed from the conditions of release. The forms for Brown's co-defendant, Hollosy, show that he was required to go through with taking the test.
Read Chris Brown's Release Form
"The initials on Brown's form are from pretrial services, which does monitoring of defendants," Gurowitz explains.
"They were filling out that form, and they're initialing it, like 'I'm the one who changed this and it should have been changed.' Like if it was on a credit card receipt," she says. "I don't have any sense of why that was changed."
But a DC Courts insider tells RadarOnline.com that it involved some high-level maneuvering. "I was told that the government decided not to request drug testing" on Brown, though they did on his bodyguard, the source reveals. "You might ask the U.S. Attorney's office why."
Article continues below advertisement
When reached for comment, however, the Public Information Officer for the U.S. Attorney's Office, William Miller, told RadarOnline.com, "Generally, we don't comment beyond what we submit to the court. I'm sorry I can't help you."
Brown has had trouble with drug tests before. Just over a year ago, he was hauled into court after failing a random drug test for marijuana. He claimed that it was legally prescribed by a California chiropractor, and got off with a warning.
But a few months after that, he stirred up controversy by posting an Instagram pic of himself smoking three huge blunts during a trip to Amsterdam. "Oh Amsterdam y'all are treating me so well!" he later wrote. "I'm sorry to everyone who got offended to my weed pics. I apologize but if y'all don't like it then don't do it. It's simple."
Brown is currently serving his fourth of five years of probation that were ordered after his 2009 assault of then-girlfriend Rihanna.
On October 27, he was arrested for felony assault after allegedly attacking a Washington, D.C., man after a nightclub appearance. The charges were later downgraded to a misdemeanor. If found to be in violation of his probation, Brown could face up to four years in prison.