Exclusive
My Wild Night With Chris Brown & Sean Kingston: Marijuana, Vodka Shots & Disrespectful Butt Slapping!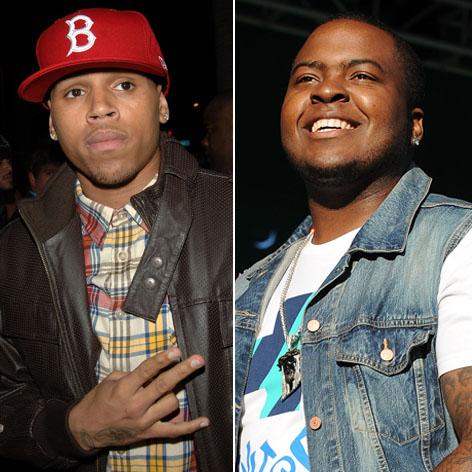 Chris Brown and Sean Kingston are used to gaggles of groupies and wild after-parties, but fan Jessica, a senior college student, got more than she expected during a night with the famous singers and RadarOnline.com has all the details.
During a show in Boston in early June, Jessica and her roommates were pulled on stage during the performance and then invited by Sean to an after-party with the boys — but Jessica tells RadarOnline.com once they got on the tour bus, she knew it was a "stupid move."
Article continues below advertisement
"My roommates and I live in downtown Boston so we thought that this after-party was going to be at one of the nearby hotels like the W, the Ritz Carlton, Four Seaons, Liberty, etc. Plus, there was A LOT of people on stage with us, so it looked like a real after party. I mean we were expecting loud music, conversation, just something normal because everything seemed pretty normal while on stage," Jessica says.
"But when we got outside they had taken our phones and shoes away from us and to be honest we were kind of in a daze, this had never happened to us before so we kind of just went along with it. Stupid move."
Once on the bus, Jessica says she assumed they were going somewhere downtown but instead, they jumped on the freeway and ended up an hour away in a small town called Foxboro.
"I kept quite the whole way and pretended like I was having fun. There was drugs, alcohol and a lot of rapping. But they are also very, VERY disrespectful towards women," Jessica revealed.
Article continues below advertisement
"The only drug I physically saw was marijuana. Chris has some vodka brand called Zing and they would pour it down our throats. Well, they did it to my friends but when it came to 'my turn' I took the bottle and pretended I was drinking out of it because I wanted to have my senses and remember things from that night."
"What really opened my eyes was how Sean, Chris, and all of their friends treat women," Jessica continued.
"On the bus it was just my roommate, another friend, and myself. But there were also two girls who Chris took with him into his hotel room. One of the guys on the bus pulled my friend over and lifted her skirt all the way up and started hitting her behind. While my roommate and I were trying to pull down her skirt, all the guys including Sean were slapping her behind while Chris was just looking right at her and laughing very, very hard."
Article continues below advertisement
Jessica says once they arrived to the hotel, there was no after-party — at least not anything the girls had expected.
"Once we were in the elevator, I noticed there were cops downstairs. When we got up to their floor everybody dispersed into their rooms. I have no idea who all was in the room where my friends and I were because we immediately ran into the bathroom," Jessica told RadarOnline.com.
"This was the first time we had gotten a chance to talk all night since we had no phones and we were not sitting next to each other on the bus. We decided that the only thing there was to do is just to run out of the hotel room.
We ran out and one of Chris and Sean's friends and another guy chased us down the hall asking us why we were leaving, trying to get us to stay.
"They took the elevator down with us, but once they saw we were going straight to the cops they dispersed. Chris was already in a room with those two other girls from the bus."
A source close to Brown tells RadarOnline.com "he is being dragged into this."
"I'm sure he was the biggest name there and perhaps the reason the groupies got on the bus, but he did not participate in what this woman is alleging," the insider added. "He was also not with them back at the hotel. It's unfortunate he's being lumped into this because he was in the area."