Chris Brown & Rihanna Cuddle At Grammy Awards, Her Ring Gets Twitter Buzzing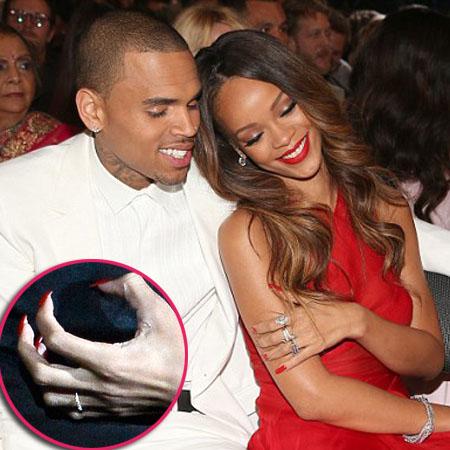 Chris Brown and Rihanna cuddled for the cameras at the 2013 Grammy Awards, and later the Diamonds singer got Twitter buzzing when she took to the stage to perform Stay wearing what appeared to be a diamond engagement ring on her wedding finger.
One fan wrote "Omg! Rihanna is wearing a diamond on her left ring finger?"
Another tweeted: "Rihanna engaged?!?! Or that's some type of promise ring?"
"Is that a wedding ring on Rihanna?" another person asked.
Article continues below advertisement
Prior to taking their seats together at the Staples Center, the two singers walked the red carpet separately, but hooked up once inside the venue.
As RadarOnline.com previously reported, Rihanna, 24, has made no secret – and no apologies – for taking the Forever singer, 23, back into her life.
Just last week, the Barbados-born beauty accompanied Brown to court in Los Angeles for his hearing to determine if he's completed his court-ordered community service related to his 2009 assault on Rihanna.
Los Angeles Judge James Brandlin continued Brown's case until April 5, saying he needs more time to review the evidence.
In a recent interview with Rolling Stone, Rihanna defended her decision to take Brown back.
"I decided it was more important for me to be happy," she explains. "I wasn't going to let anybody's opinion get in the way of that. Even if it's a mistake, it's my mistake. After being tormented for so many years, being angry and dark, I'd rather just live my truth and take the backlash. I can handle it."
Article continues below advertisement
Despite being devoted to Brown, who recently compared himself to Jesus on the cross, Rihanna realizes that theirs isn't the classic love story, but insists that things have changed for the better.
"When you add up the pieces from the outside, it's not the cutest puzzle in the world," she says. "You see us walking somewhere, driving somewhere, in the studio, in the club, and you think, you know. But it's different now. We don't have those types of arguments anymore. We talk about sh*t. We value each other. We know exactly what we have now, and we don't want to lose that."
She also has faith in her belief that his days of domestic violence are over.
"He doesn't have the luxury of f*cking up again," she says. "That's just not an option. I can't say that nothing else will ever go wrong. But I'm pretty solid in the knowing that he's disgusted by that. And I wouldn't have gone this far if I ever thought that was a possibility."