Walk Of Shame! Rihanna Goes To Court With Chris Brown Wearing Same Clothes She Sported Last Night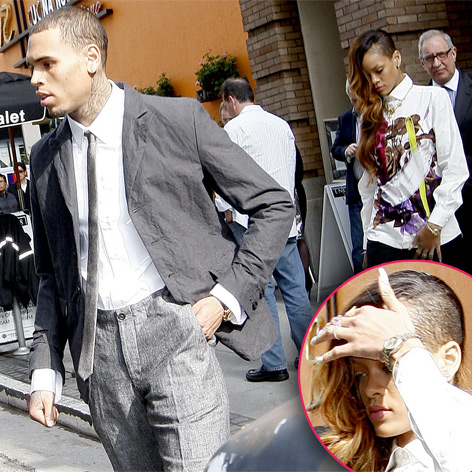 Rihanna took the Walk of Shame to a new level while standing by her man , showing up in court Wednesday with boyfriend Chris Brown, wearing the same clothes she donned last night, RadarOnline.com is reporting.
Judge James Brandlin continued Brown's case until April 5 because he needs more time to review the evidence.
The Umbrella singer was sporting the same black leggings and blouse with paint splatters that she was wearing Tuesday night. Chris' mom Joyce Hawkins was also in the courtroom for the brief proceedings.
Article continues below advertisement
As RadarOnline.com previously reported, L.A. District Attorney Jackie Lacey said in a statement Tuesday, "Chris Brown failed to provide 'credible or verifiable evidence' that he completed his court-ordered community labor." She has asked the court to order Brown to fulfill his obligation in Los Angeles County.
DOCUMENTS: Chris Brown's Attorney Files Opposition To Probation Alteration
As part of Brown's probation, stemming from his 2009 brutal beat down of then-girlfriend Rihanna, Judge Patricia Schnegg ordered him to perform 180 days of community service, and permitted him to carry it out in Virginia, where the singer has a residence.
Suspicion popped up about Brown's completed community service hours because of alleged discrepancies in his probation reports and lack of documentation.
The Richmond, Virginia police department shot down accusations, that Brown faked his community service and lied about how many hours he completed - insisting the R&B singer fully complied with the terms and conditions imposed by the court. The department fired off a scathing letter to L.A. prosecutors vehemently denying claims that Brown faked it.
On Wednesday in court, Brown's attorney Mark Geragos confirmed Radar's exclusive story that he filed a motion stating the DA had been given information about Brown's community service proving it was not fraudulent.
Geragos stated his disappointment in the DA's office in his brief.
Brown was ordered to report to the probation department in the next 48 hours, and give a formal interview to officials.