Exclusive
Chris Brown Did NOT Fake His Probation, Attorney & Police Have Proof He Fully Complied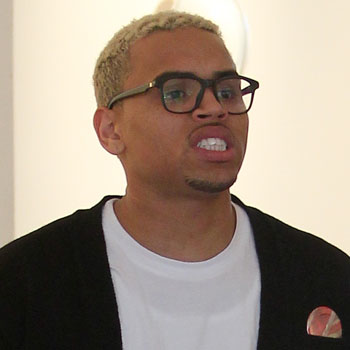 Richmond PD is shooting down accusations, that Chris Brown faked his probation and lied about how many hours he completed - insisting the R&B bad boy fully complied with the terms and conditions laid down by the court, and have fired off a scathing letter to L.A. prosecutors vehemently denying their claims, RadarOnline.com is exclusively reporting.
"An attorney for the police department has sent a letter to Los Angeles prosecutors stating that they are completely in the wrong when it comes to their claims about Chris' community service," a source close to the situation tells Radar. "Chris' attorney, Mark Geragos will be filing a response to Tuesday's motion which alleged Chris might have lied and committed fraud over the amount of hours he served.
Article continues below advertisement
DOCUMENTS: DA Alleges Chris Brown May Have Lied About Community Service
"Geragos insists there is solid evidence to prove that Chris didn't lie and that he fully complied with his probation and community service obligations. Richmond P.D. is extremely upset about the allegations and believe that prosecutors are just ignoring the facts. Separately, several firefighters have voluntarily contacted Geragos and said they witnessed Chris performing his community service hours. Chris is ready to face the judge today and truthfully answer any questions about the charges. He has nothing to hide."
As RadarOnline.com previously reported, L.A. District Attorney Jackie Lacey said in a statement Tuesday that, "Chris Brown failed to provide 'credible or verifiable evidence'" that he completed his court ordered community labor." She has asked the court to order Brown to fulfill his obligation in Los Angeles County.
Suspicion arose over Brown's completed community service hours because of alleged discrepancies in his probation reports and lack of documentation.
MORE ON:
Celebrity Justice
Article continues below advertisement
As part of Brown's probation, stemming from his 2009 brutal beat down of his girlfriend, Rihanna, Judge Patricia Schnegg ordered him to perform 180 days of community service, and permitted him to carry it out in Virginia, where the rapper has a residence.
L.A. prosecutors allege in their motion that Brown's logged community service hours include times he worked at a children's center where his mother was employed, but that the center's director told investigators from the DA's office that she never saw Chris perform any actual work, and wasn't told when he did.
However, as previously reported, Geragos told the Los Angeles Times Tuesday, "Apparently the District Attorney's Office has completely lost their minds. They are making scurrilous, libelous and defamatory statements and apparently have lost the ability to read their own reports."
Meanwhile, both sides are gearing up for battle in court Wednesday afternoon.
"The court hearing will be explosive, and Mark wants the DA's office sanctioned for their actions," the insider says.
Geragos' response to the DA's motion is expected to be filed in the next hour.
Calls seeking comment to Mark Geragos weren't immediately returned.