Exclusive
How She Did It: Explosive New Court Documents Reveal How Vicki Gunvalson Allegedly Defrauded Her Ex-Business Partner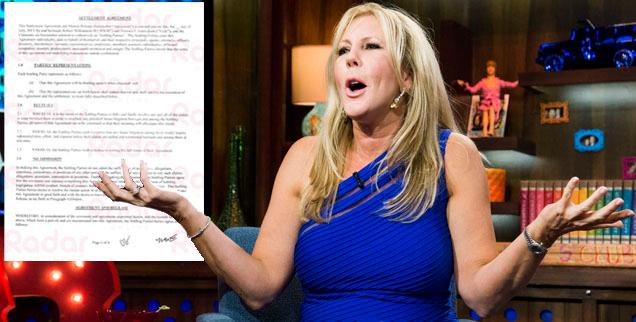 Article continues below advertisement
One piece of evidence presented in the new case, obtained by RadarOnline.com, is a "Settlement Agreement" that was signed by Vicki and her former Vicki's Vodka partner, Robert Williamson III, in July. The deal was meant to "fully and finally resolve any and all of the claims at issue" and to "preclude any potential future litigation" the documents explain.
Williamson agreed to dismiss Vicki from all of his pending litigation regarding Vicki's Vodka provided she pay him $121,000 in damages.
In exchange, Vicki agreed to "continually promote her vodka in every possible public outlet," to "initiate tweets about VV" and to "increase personal appearances for bottle signings and/or similar events." She promised to respond to VV-related emails within 72 hours, attend trade shows and liquor events and to avoid making "any derogatory or disparaging remarks about VV, her former partner, Williamson or any other parties related to VV."
Article continues below advertisement
She also agreed that she would not bring her on-off boyfriend Brooks Ayers, who faces legal troubles of his own with Williamson, to any public signing events!
Both Vicki and Williamson signed on July 15, but the agreement was short-lived. Williamson's new lawsuit claims that "almost immediately following the dismissal of Vicki from the federal litigation, Vicki disregarded the settlement agreement and breached the same.
"In addition to breaching the agreement following execution, Vicki made false statements and representations to induce RW III to enter into the settlement agreement. Vicki represented that she would in good faith abise by the settlement agreement and use her best efforts to make VV successful.
"In reality, Vicki had no intention of abiding by the terms of the settlement agreement and had merely used the entire exercise as a means to solve certain problems, including her dismissal from the federal litigation."
Article continues below advertisement
Indeed, Vicki's lawyers had been working to do just that for months. In another newly released piece of evidence, obtained by Radar, her lawyer blasts Williamson's lawyer, demanding they dismiss the "frivolous" action against Vicki and threatening to take legal action of their own.
"We demand that the action be dismissed immediately," Vicki's lawyer, Alexander Rufus-Isaacs wrote to Williamson's attorney, H. Stan Johnson. "If it is not, my clients reserve their rights to file a cross complaint, seek Rule 11 sanctions, and file a suit for malicious prosecution after they have obtained judgment in this Action. If you are intent on pressing on with the Action, it will be vigorously defended …"
Indeed, Rufus-Isaacs claims that Vicki was the one being defrauded, not Williamson.
"Ms. Gunvalson has fully performed all tasks that she agreed to perform," he wrote, outlining how Vicki got her vodka featured on Real Housewives of Orange County, the Joy Behar : Say Anything! show, and Watch What Happens Live with Andy Cohen.
"Despite her continued good faith efforts to promote the product, Ms. Gunvalson became increasingly frustrated with Mr. Williamson's lack of responsiveness and other behavior," Rufus-Isaacs writes. In fact, he reveals, Vicki wrote Williamson a long email on April 6 hammering him with questions about the vodka company's progress: "To this date I do not have a copy of the business and marketing plan," she wrote. "…Where are we at with the Distribution channel being set up? When will distribution take place? Who are we using? What is our sales projection for Q3, Q4, Q1 and Q2 2014?"
Article continues below advertisement
She continued, "My reputation and brand is on the line with launching Vicki's Vodka to the world this season and I want to be sure everything is set up correctly now before we move forward with the distribution …"
Unfortunately, her lawyer claims, she never got a response. "Instead of behaving in a straightforward manner and responding" to Vicki's concerns, her lawyer claims, Williamson "went behind her back" and incorporated the California-based company in Nevada. "We strongly suspect that Mr. Williamson … intends to own and operate the business without Ms. Gunvalson, who has lent her name and reputation to the buiness as well as working hard to promote it," Vicki's lawyer wrote.
"If so, this is egregious and despicable conduct by Mr. Williamson" that could form the basis of several lawsuits by Vicki, he warned.
Then, after blasting each of Williamson's accusations against Vicki, he warned yet again that Williamson should dismiss the lawsuit. The July settlement between Vicki and Williamson was supposed to accomplish that, but as Williamson's new lawsuit proves, it's hardly last call in this case.