Exclusive
Secrets On The Set: New Tell-All Book Exposes What REALLY Goes On Behind The Scenes On 'America's Got Talent'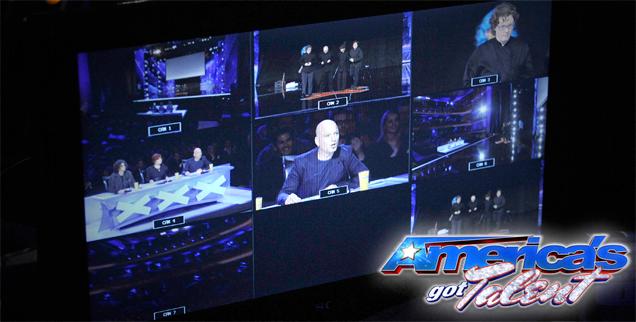 Think you know what goes on behind the scenes of TV's biggest talent show? Think again.
America's Got Talent is in full swing this season as judges Heidi Klum, Howard Stern, Mel Band Howie Mandel search for the biggest talent in America to take home the million-dollar prize — but it's what happens when cameras aren't rolling that an explosive new tell-all book is promising to reveal, and RadarOnline.com has the exclusive sneak peek.
Article continues below advertisement
Boasting plenty of on the record interviews with prior contestants and several juicy secrets spilled by producers, Inside AGT: The Untold Stories of America's Got Talent is a page-turner for any reality TV fan.
"Pre-taping is just one of the many clever maneuvers AGT producers employ that go almost undetected by viewers at home," the book claims.
"Runner-up Cas Haley (season 2) remembers one uncomfortable episode that took place backstage during the audition rounds. 'We were all in the green room, waiting to go out and perform and there was this young girl from Hawaii who was with her mom,' he says. 'She went out and auditioned and while she was out there, a producer came back to the holding room and told us, 'OK, she made it, let's give her a big hand when she comes back in here.' So, of course, we all cheered for her when she came through the door and she just burst into tears.
"'It turns out she didn't actually make it, they just told us that so we'd cheer and they'd get reaction out of her. That was the first time I realized I couldn't trust these people. The show is not what people think. It's all for ratings. That's what they're looking for.'"
According to the book, former contestants claim producers manipulated them into performances they weren't comfortable with, and some singers even had their songs switched out at the last moment.
Article continues below advertisement
"I know numerous friends on the show who would rehearse with full monitors — EQ'd perfectly — then when they do their live performance, the monitors would drop off so the performers can't hear themselves and they sound off key," Season 5 illusionist Murray Sawchuck said.
"That is a fact."
Included in the shocking tell-all is insight from former contestants on several burning behind-the-scenes questions:
Where do the acts come from?
"Most of the acts who typically advance to Vegas Week and beyond are personally recruited by AGT talent scouts and producers and never wait in line," the book alleges.
"Some are discovered on YouTube, others in comedy clubs and performance venues. 'When I made it to the Top 20, I couldn't believe I was the only one that really came from an open call audition,' country singer Julienne Irwin (season 2) said. 'I was the only one that hadn't been a professional performer.'"
Article continues below advertisement
What kind of agreement do the acts have to sign before appearing?
"You are pretty much signing away your life," a former contestant said. "It's almost non-negotiable."
"In exchange for being seen by millions of viewers each week, everyone must agree that producers can trick, exploit and embarrass them — and even depict their personal stories in a manner that 'may be factual or fictional' -- and they can't sue for any reason," the book writes.
"'I further understand that my appearance, depiction and portrayal in the program may be disparaging, defamatory, embarrassing…and may expose me to public ridicule, humiliation or condemnation,' the agreement states."
Season 5 winner Michael Grimm told the book that he was required to use the show's delegated management company, which he described as horrible.
"It was a horrible, horrible management company that they set you up with. That it not a good situation. The guy they assigned me to was a green horned rookie," he said.
Article continues below advertisement
"He had no experience in the music business at all. And I do. I have way more work experience than this manager that was assigned to me. I was telling him how this business works. He was learning from me. That is not good."
Who decides on the song, act or routine?
The book claims an individual producer works with several acts and while the artist is allowed input, the final decisions are all made by the show.
"Each act must work within the parameters of a pre-set budget that the executive producers decide for them," the book says.
"In some cases contestants are allocated as much as $30,000 to produce a 90 second performance."
Several comedic acts told the book that they were required to submit their jokes to the producers in advance to make sure they cleared network standards and didn't clash with the show's family friendly values.
Article continues below advertisement
What is a typical work day like for contestants?
"You start out early in the morning around 6:00. And it would go until 9:00 or 10:00 at night," contestant Alice Tan Ridley (season 5) said — who is the mother of Precious star Gabourey Sidibe.
"You felt like you were in prison," Season 4's Damien Escobar revealed. "They kept us in this holding area forever, like 19 hours, until it was our time to rehearse. We'd get about four hours of sleep and be up at 5:00 AM to do it all over again… We had a nurse on set everyday that was giving us vitamin B, vitamin K shots. It was crazy… There was a therapist backstage."
Who counts the votes?
"The votes are collected and counted by an independent third party called Telescope, Inc.," the book reveals. "They also tally results for American Idol, The Voice and X Factor."
What happens after you get eliminated?
The book claims that when eliminated travel arrangements home are made and some contestants are referred to speak with an onsite therapist before leaving.
"They shipped us to a shrink for legal reasons, I suppose," singer Eli Mattson (season 3) said.
Article continues below advertisement
Damien Escobar said he and his brother didn't have to go when they were eliminated — but their mother did!
"She was so pissed off. I remember I was in the back doing interviews after the show, and I hear my mom screaming," he said.
"You would have thought that she lost. She was screaming at the top of her lungs, and I was like, 'Oh god, my mom would be the one that went to the therapist!'"
The book also features updates on popular past contestants, a breakdown of each of the eight seasons and a chapter devoted to Laura Finley, the wife of contestant Joe Finley from Season 5.
Laura's dead body was found at the bottom of a staircase in the Millennium Biltmore Hotel, clothed in just her underwear. Her rocker husband was preparing for his scheduled audition in front of the judges at the time she was discovered.
Joe claimed Laura was brutally raped, strangled and robbed before her body was moved to the bottom of the staircase to appear like she fell a number of floors.
For other examples of reality TV shows caught faking it, click here, here and here.