Exclusive
EXCLUSIVE INTERVIEW: 'My Wife Was Raped, Robbed & Murdered', Says America's Got Talent Contestant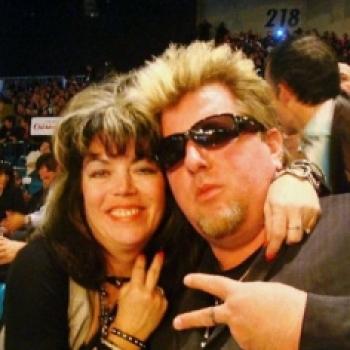 The America's Got Talent contestant whose wife was found dead in a Los Angeles hotel says she was brutally raped, strangled and robbed before her body was moved to the bottom of a staircase to appear like she fell.
Speaking exclusively to RadarOnline.com, a devastated Joe Finley said he was convinced Laura, 48, was murdered after being sexually assaulted at the Millennium Biltmore Hotel on October 23.
Article continues below advertisement
He said there's yet-to-be-released evidence that will prove his stunning claims, including DNA found under Laura's fingernails from when she scratched the killer during the rape.
AUDIO: America's Got Talent Death -- The 911 Call
"It's obvious that she was murdered," Joe told RadarOnline.com, breaking his six-week silence on the mysterious case.
"I believe she was raped, killed and her body was moved, (to the bottom of the staircase) and the scene was staged to make it look as though she'd fallen to her death."
The mother-of-three vanished while her rocker husband was waiting in line to audition for the hit NBC show.
Her body, clad in just her underwear, was found at about 8 a.m. and investigators initially believed she'd plunged eight stories to her death.
Joe, a singer/guitarist who went ahead with his audition in front of judges Piers Morgan, Sharon Osbourne and Howie Mandel, said he learned of his wife's death when police showed him a graphic photo.
Article continues below advertisement
"I believe she was strangled," he said. "As soon as I saw the photo, I said, 'Someone strangled my wife' because I could tell, from looking at her.
"I kissed her on the lips on the piece of paper and then they took it from me."
Joe also revealed Laura was found without three expensive diamond rings when she was discovered.
"She was wearing three expensive solitaire diamond rings all stacked on one finger and those rings were missing, I believe stolen, when she was found," said Joe.
"But I don't believe that was the motive, I believe the motive was rape and she was fighting to save her life. This was a rape that went too far."
In a case that has baffled Hollywood, Joe said he has been forced to launch his own investigation and has employed private investigators to find out how his wife of 26 years died, because "police are not telling us anything."
Cops believe the case is a tragic accident, but unconvinced, the musician has offered a $25,000 reward for information leading to the arrest of the perpetrator.
Article continues below advertisement
"It's impossible that she fell down the stairs or over a railing," Joe told RadarOnline.com.
"One, Laura would not be using the staircase if there was an elevator right there, and two, if you fall over a rail you're going to the bottom, not ending up on another floor.
"Thirdly, one thousand deaths a year are caused by falling down stairs and the highest percent of that are elderly people. You know what percentage that put this case in; you don't have to do the math to figure it out."
Joe - who described himself as a "broken man with a family that is suffering hour-by-hour" - also accused cops of destroying the crime scene at the historic downtown Los Angeles hotel, where he and Laura had been staying after celebrating his AGT try-out.
"The police were wasting precious time and destroying a crime scene by allowing loads of people access the hotel," he said.
"They should have closed the hotel down and disallowed anyone from leaving the hotel."
Article continues below advertisement
Instead, Joe added, even his own son was able to collect his mother's belongings from their room, while the hotel continued to operate as normal.
"My son and nephew walked out with clothes we were wearing the night before," Joe said.
"I pray every day that the investigators haven't botched this and they're just not saying anything because they have not come up with a solution as to what happened to Laura."
Joe, who was named a person of interest in the death, said cops interrogated him for nearly seven hours, all while he was handcuffed to a chair and wearing nothing but underwear.
"The police made me strip down because they were looking for scratches on my body, probably looking for marks that could have indicated there was some sort of struggle," Joe said.
"There wasn't any... God knows how many hours I was stripped down to my underwear, handcuffed to a f**king chair, in pain and screaming for help, to have the cuffs loosened.
Article continues below advertisement
"If I am a person of interest, I am ok with that given it is a general rule of thumb in investigations like these. However, all this time, the killer is still out there.
"I was even threatened by the police if I was seen on surveillance video that I could do 20-years-to-life and my response was:'f**k you'."
Joe said his offer of a polygraph was rejected.
He added, "I'm tired of it...it is not our style to remain silent. Laura and I fought for what we believe in. I just wish someone would look into this as I am spending my life savings on trying to figure out what happened to my wife."