Exclusive
EXCLUSIVE INTERVIEW: Talent Contestant Reveals Wife Was Found Dead In Underwear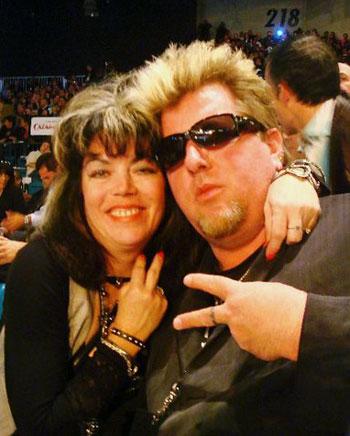 America's Got Talent contestant Joe Finley detailed the final hours leading up to his wife's mysterious death and the horrifying state she was found in an exclusive interview with RadarOnline.com.
RadarOnline.com was first to break the story that Laura Finley, 48, was found dead in a stairwell at the Millenium Biltmore Hotel in downtown Los Angeles on October 23 at 8:25 AM. She was there to support her husband who was auditioning at the hotel for America's Got Talent.
Article continues below advertisement
In a candid interview, Finley admits that the night before she died, he and his wife took ecstasy and were "partying." He also revealed that she chillingly was found in her underwear.
When contacted by RadarOnline.com, Lt. Vernon of the LAPD would only say, "the victim was found partially clothed," and refused to go into further detail.
"We were partying, we took ecstasy but it wasn't out of control," Finley told RadarOnline.com. "She was really happy, I was happy, we were really excited about my music. I wrote her a poem. We went down to a jazz bar in the hotel and then took a tour of the hotel because apparently it's a historic place. We were having a great time."
Finley said he and his wife returned to their hotel room at the end of the night and "went to sleep."
The next morning, he says he woke up to find her not in their room.
"She was supposed to get us breakfast because I had to get up and get in line for the America's Got Talent auditions," Finley said. She didn't come back so I just left and got in line and figured she was still out. I didn't think anything of it."
Article continues below advertisement
Laura reportedly fell from the 11th floor to the 3rd floor. When her body was discovered, Joe claims she was found wearing only her underwear. Soon after they arrived on the scene, police questioned Finley and discovered he had ecstasy pills. They arrested him and he was released on bail, but police are considering him a person of interest.
Finley says that is not what he was told. "One detective told me that I should feel fortunate that I am no longer being considered a person of interest," he said before adding that his attorney says that has not been confirmed.
"From everything I'm being told the coroner is ruling her death an accident, but I believe someone murdered my wife," Finley said. "This was so unlike my wife. She never would have drifted off anywhere. We were married for 26 years. I've known her since I was 15. She is the most responsible person I've ever known and she never, ever, would have done something like this on her own."
Lt. Vernon told RadarOnline.com that they are "looking at surveillance video from several locations throughout the hotel and hotel bars."