Sister of AGT Contestant's Wife: My Sister Was 'Murdered'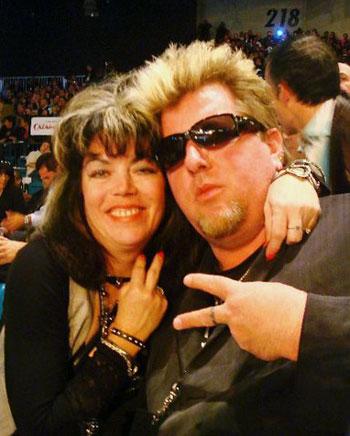 The sister of Laura Finley, who was found dead in a Los Angeles hotel last weekend while her husband was trying out for America's Got Talent, is proclaiming she was murdered.
Jill Sutterlin took to her Facebook page claiming her sister's death wasn't an accident and funeral services are pending.
"Laura Louise Sutterlin Finley born 5-31-1962 Died 10-23-2010.. She was MURDERED we dont have all the details..Will post her services when arrangments have been made .. IN LOVING MEMORY ... SISTERS ARE FOREVER.. I LOVE YOU LAURA !!!" the post read.
Article continues below advertisement
Laura, 48, died after falling to the bottom of a stairwell at the Millennium Biltmore Hotel in downtown Los Angeles on October 23.
Laura's husband, musician Joe Finley, is considered a person of interest in her death, according to police.
She was at the hotel to support her husband while he auditioned for the hit NBC show.
Joe admitted to RadarOnline.com that the pair had "partied" and indulged in ecstasy the night before her mysterious death.
Laura was found in her underwear after falling from the eleventh floor of the hotel to the bottom of the stairwell.
The stairwell is at the opposite end of the floor from the ice machine, where Laura's husband has said she went when leaving the room around three in the morning.
As RadarOnline.com revealed, Laura had been involved in a mysterious incident at the machine in the middle of the night- just hours before she died.
MORE ON:
America's Got Talent
Article continues below advertisement
Lt. Vernon of the LAPD told RadarOnline.com law enforcement are "looking at surveillance video from several locations throughout the hotel and hotel bars."
But RadarOnline.com learned there are no security cameras in the bar or in the stairwell where Laura fell.
According to a hotel source, there are only cameras in the lobby and near the elevators.
RELATED STORIES:
EXCLUSIVE INTERVIEW: Talent Contestant Reveals Wife Was Found Dead In Underwear