Exclusive
EXCLUSIVE: Body Of 'Talent' Contestant's Wife Was 'Put In Stairwell,' Says Family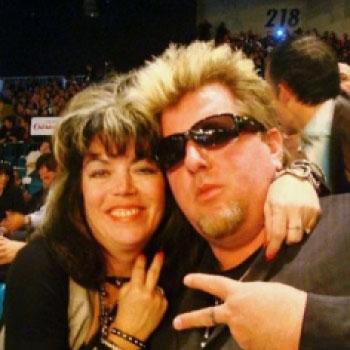 The mystery has deepened surrounding the shocking death of a woman whose husband was an America's Got Talent contestant, RadarOnline.com is reporting.
Laura Finley, 48, was found at the bottom of a staircase at a Los Angeles hotel on Saturday morning.
It had been suggested the woman, married to AGT hopeful Joe Finley for 26 years, had plunged down eight flights of stairs, to her death.
But according to Laura's step mom, who spoke exclusively to RadarOnline.com, her daughter's body was moved to the foot of the stairs, in what she believes was a deliberate decision by the person who "murdered" her.
Article continues below advertisement
"Because of the way the stairway has been shown in photos in the media there was no way that the way her body was found with no visible trauma," Elba Sutterlin said.
"The coroner said he's thinking supposedly they're ruling it an accident, according to the media, but there's no possible way to fall that kind of a distance and (not) have more trauma to your body.
"That's why the murder aspect is being considered by our family.
"Somebody put her there... after someone, yes, killed her."
Laura vanished after partying and indulging in party drugs with her husband.
According to Joe, Laura left the room around 3 a.m., headed for the hotel's ice machine, but never came back.
Finley, a rock singer and guitarist, is being called a "person of interest" in the death, according to cops.
"It has nothing to do with any previous (marital) history," Sutterlin said.