Exclusive
'Toddlers & Tiaras' Fake 'Reality' Exposed: Pageant Mom Admits Daughter Had To Shoot Six Takes Of Her 'Spontaneously Singing A Song'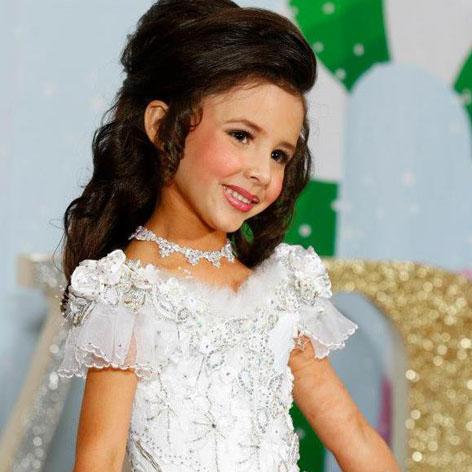 The pageant mom of a Toddlers & Tiaras star has admitted staged scenes are the unreality of reality television -- and has detailed how scenes she participated in were shot out of sequence, often contrived and shot multiple times until the best take was in the can.
Darci Mchenry, whose daughter Devin is scheduled to appear on season six of the hit show that launched the careers of Honey Boo Boo and Eden Wood, spoke out to RadarOnline.com in the wake of the latest exposé about faked scenes.
Article continues below advertisement
"There is some 'setup' and scripting in a way and we were definitely 'told' what to do for certain scenes -- not that they weren't things we would have done anyway," she wrote.
"But they (producers) had to get camera angles correct and they had to accomadate for room tones and noise outdoors. We had to 're-shoot' things that started out spontaneously but they weren't expecting it. So yes, we were re-fed lines we spontaneously said to recreate a 'missed' moment."
Article continues below advertisement
Just like 'RHONY', Mchenry said reshoots are often done to create the most flattering lighting during their scene.
In one particular scene, the reality television mom said her young contestant daughter Devin had to do about six "takes" of her "spontaneously singing a song."
"It is still TV and they still have to 'produce and direct' even reality -- you're not filming wildlife - you're filming people and it's different," she added.
Reached via email, Mchenry said much of what viewers "see is real, but much is completely recreated."
"This can be anything from adjusting to reshoot because of lighting issues -- or even being 'fed' lines by the producing team," she said.
"I'm sure most reality shows work this way - I know our producer has been involved in a number of other reality shows and pretty much said as much...it's the nature of the limits of the technology.
Article continues below advertisement
"For instance, we had one scene in our home that were were in the middle of shooting and a huge truck drove past the house causing issues with the room tone so we had to do it completely over.
"The leaving the house for the pageant and the arrival scenes are shot out of sequence - we shot our leaving scene three days before the actual pageant.. It is is VERY interesting."
Mchenry said producers would also record audio and take it out of context during episodes.
"Soundbites that aren't even related to what was going on on camera," she said.
"You're mic'd the whole time. You can be addressing one person and editors can come in and splice it to make it look like your addressing someone else with those comments because it makes for better television.
"I, of course, dont know what our episode will turn out like - it'' in the editors' hands - but the 'reality" is that you sign a buttload of paperwork stating that they basically have the right to do as they wish with the footage. If you're willing to be on camera, that is the risk you basically sig ned yourself away to have."
Article continues below advertisement