Shocking New Photos From Inside Cleveland Kidnapper Ariel Castro's House of Horrors Reveal The True Extent of His Depravity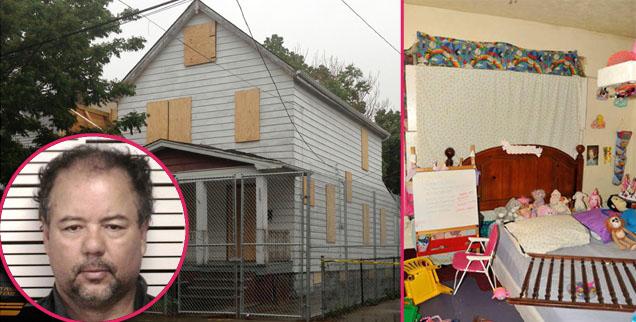 Article continues below advertisement
The horror began at the front door, which was rigged with alarm clocks that would go off when anyone attempted to open the door. The only bathroom was located on the dirty, crowded first floor near that entrance, but the women were forced to use plastic commodes inside their bedrooms, as one other picture shows.
Amanda Berry shared a bedroom upstairs with the daughter she had after being raped by Castro. Heartbreakingly, her efforts to provide a normal life for the six-year-old, Joseline, are obvious in the room, which is carefully organized and filled with toys, posters, fake flowers, coloring pages and worksheets.
But their true plight could not be ignored: The room's windows were solidly boarded up and there was a hole carved in the lower panel of the door for ventilation. One other photo also shows a ratty blonde wig. A source previously told RadarOnline.com that the women were only allowed out in the backyard when they were wearing disguises.
Gina DeJesus and Michelle Knight shared a smaller, pink, bedroom, that also shows signs of how the girls tried to retain their humanity in unimaginable conditions. A hand-drawn sign reading "Happy Birthday," with a large cross, can be seen on the dresser filled with knickknacks. According to reports, Castro gave the women money after raping them, and they were then permitted to give him the money for items from the store in a perverted system. DeJesus and Knight's bedroom window was boarded up as well.
Article continues below advertisement
The floor of their room also was littered with rusty chains and locks: Investigators reportedly found more than 99 feet of restraints within the home.
Down in the cluttered, hoarder-like basement, police found more than $20,000 in cash -- the money Castro reportedly "paid" the women for his rapes.
In all, the photos provide a sickening look into the home and mind of a man who admitted, "The bottom line is, I am a sexual predator."