Revealed: First Photos Provide Grisly Look Inside Cleveland's House of Horrors As Court Hears Victims Wore Helmets -- As Ariel Castro Raped Them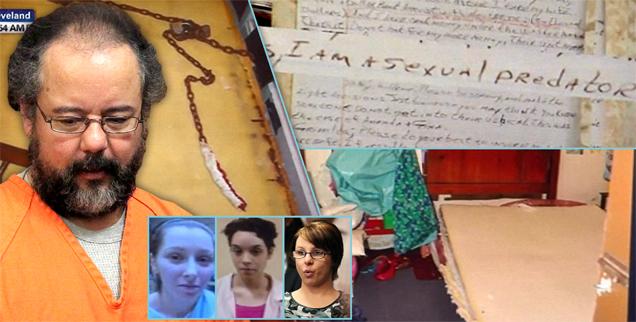 Disturbing photos from inside Ariel Castro's Cleveland House of Horrors -- where he kept victims Michelle Knight, Amanda Berry and Gina DeJesus -- were shown in a courtroom on Thursday, as the self-confessed sexual predator attended a formal sentence hearing stemming from his plea deal last week.
The images show a 3D model of the home shown in the court Thursday, where the admitted rapist and kidnapper sat in his orange jumpsuit. Images of the inside reveal a cluttered, hoarder's home, complete with an array of implements meant to keep the women trapped in.
Article continues below advertisement
During Thursday's hearing, FBI Special Agent Andrew Burke said Castro used closet doors to shut off bedroom windows, some with the doorknobs removed and locks on the exterior. Burke said Castro had sections of the house partitioned off to conceal the presence of the hidden women, and that the rooms the victims were kept in had chains in them.
Burke also testified that Castro admitted in writing he's "a sexual predator," sentiments echoed by the lead investigator in the case, Cleveland police detective Andrew Harasimchuk.
"Each woman told me they were repeatedly sexually, physically and emotionally abused by Ariel Castro during the entire time they were in captivity," Harasimchuk testified.
In another galling revelation, Harasimchuk said that Castro made the women wear motorcycle helmets during his sexual assaults on them.
As we previously reported, Knight, Berry (with her daughter Castro fathered, Jocelyn) and DeJesus were rescued May 6 after being held captive in Castro's house since the early-2000s. Knight had been missing 11 years (since Aug. 23, 2002), Berry 10 (April 21, 2003), and DeJesus nine (April 2, 2004).
Castro accepted a plea deal in Cleveland last week to the 977 counts against him -- including rape and kidnapping -- in an agreement that eliminated the death penalty, but will see him serve a life sentence, plus an extra 1,000 years.