Cleveland Kidnapping Survivor Michelle Knight: 'Life Is Tough, But I'm Tougher!'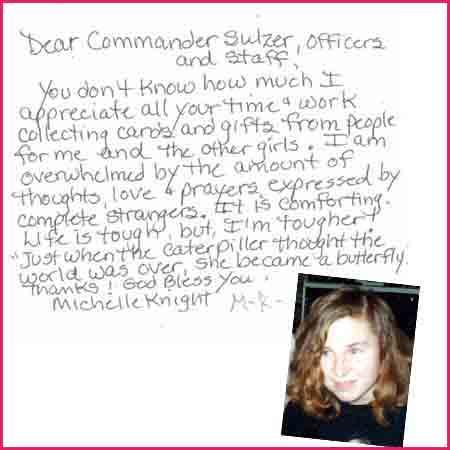 Michelle Knight, one of the three survivors of Ariel Castro's House of Horrors, thanked officers in a handwritten letter Cleveland police posted on Facebook Wednesday, and we've got all the details for you right here on RadarOnline.com.
"I am overwhelmed by the amount of thoughts, love & prayers expressed by complete strangers," Knight wrote. "It is comforting. Life is tough, but I'm tougher!"
In the wake of kidnapper Castro's plea deal last week, prosectors Wednesday revealed that Knight and the other two victims, Amanda Berry and Gina DeJesus, kept diaries of their torturous time in captivity at Castro's hands.
Article continues below advertisement
Cuyahoga County Prosecutor Timothy McGinty said in a sentencing memo that the writings confirm Castro "serially abused" the women "physically, emotionally, and sexually on a daily basis," comparing the women to prisoners of war.
"The entries speak of forced sexual conduct, of being locked in a dark room, of anticipating the next session of abuse, of the dreams of someday escaping and being reunited with family, of being chained to a wall … of missing the lives they once enjoyed, of emotional abuse, of his threats to kill, of being treated like an animal, of continuous abuse, and of desiring freedom."
Knight, in her first appearance after her rescue said she's building a "brand new life."
"I may have been through hell and back, but I am strong enough to walk through hell with a smile on my face and with my held high and my feet firmly on the ground.," Knight said. "Walking hand-in-hand with my best friend, I will not let the situation define who I am -- I will define the situation."
As we previously reported, Knight, Berry (with her daughter Castro fathered, Jocelyn) and DeJesus were rescued May 6 after being held captive in Castro's house since the early-2000s. Knight had been missing 11 years (since Aug. 23, 2002), Berry 10 (April 21, 2003), and DeJesus nine (April 2, 2004). Castro accepted a plea deal in Cleveland last week to the 977 counts against him -- including rape and kidnapping -- in an agreement that eliminated the death penalty, but will see him serve a life sentence, plus an extra 1,000 years. Castro will be formally sentenced in a hearing Thursday.