Exclusive
Party Time, At Last! Amanda Berry Downed Strawberry Daiquiris & Danced During First Major Public Appearance Since Escape From House Of Horrors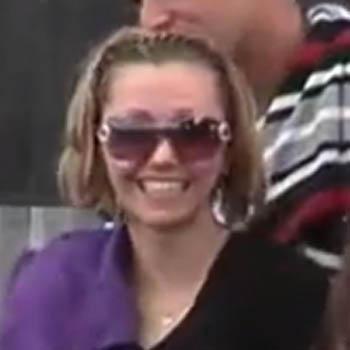 Drinking frozen strawberry daiquiris and dancing with friends at an outdoor concert sounds like the perfect summer night for any 27-year-old girl. But for Cleveland's Amanda Berry, it was a long time coming.
Kidnapped in 2003 at the age of 16, Berry spent ten years in captivity at Ariel Castro's house of horrors until her escape in May. On Saturday, she began to make up for all of the simple pleasures she'd missed out on through the years by partying at Rover Fest in Cleveland, and only RadarOnline.com has all of the exclusive details.
Article continues below advertisement
Amanda's appearance at the music festival was a huge surprise to everyone -- even the concert's organizer, local DJ Rover of Rover's Morning Glory show on 100.7 WMMS FM.
"I was just as surprised as everyone else!" Rover tells Radar.
"I had sort of just made some comments on air a couple of times saying Berry and her fellow captives Gina DeJesus and Michelle Knight should come out and party at RoverFest to make up for all the years they lost. We never really made any effort to reach out to them though."
Then, about 6 p.m. on Saturday, "Three people on my security team came up to me and said 'Amanda Berry is here. She says that you invited her,'" Rover explains.
"I thought they were joking! But they pointed to her and she was just out in the crowd, enjoying the concert. I was like, 'Bring her backstage!'"
Once there, "She was very friendly, very polite," Rover says. "Like any normal girl."
"I asked her if I could get her a beer or anything and she said she would like something fruity," he reveals. "We were serving frozen Island Squeeze strawberry daiquiris, so I had someone go get some for her."
Article continues below advertisement
Amanda was accompanied by her sister, Beth, a male cousin, a man named Ricky with cerebral palsy, and three or four other friends, all of whom hung out back stage for more than two hours.
Internet commenters have also pointed out that she looked very cozy with one young man in a striped shirt on stage, who hugged, kissed, and nuzzled her throughout the night.
Rover is careful with his words describing the man, saying, "I was introduced to him, and I don't know the relationship between the two of them. It was unclear and I wouldn't want to speculate because I wouldn't want to get it wrong. I can't even really recall the guy's name but he was nice."
Later in the evening, rapper Nelly asked Amanda to come up on stage and she danced and sang along to his song Just
A Dream.
In all, Rover says the night couldn't have worked out better if he had planned it.
"I really don't know how it all came about, but three or four people she was with said they listen to my show all the time," he explains.
"I'm guessing that's what happened. But I'm glad it did. Amanda seemed like she was having a very good time!"
Watch the video below!
youtube=https://www.youtube.com/watch?v=RSBporVqa2g&w=560&h=315