Pain Behind The Joy: Ohio House Of Horrors Survivor Michelle Knight Refuses Contact With Her Mother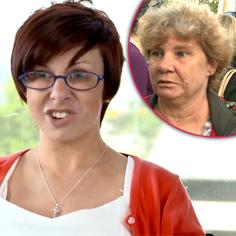 The three survivors of the Cleveland House of Horrors are adjusting to life outside Ariel Casto's basement, reuniting with family and friends, but a new report claims survivor Michelle Knight has rejected all pleas for a reunion from her mother.
The 32-year-old has yet to speak with her mother and has not replied to any cards or letters sent by Barbara Knight — even refusing to see her 10-year-old sister.
Article continues below advertisement
"Barbara is hurt. She is very hurt. All she wants to do is see and speak to her daughter. She wants her youngest daughter Katie to meet Michelle," a family friend told the Daily Mail.
"She has sent lots of letters and cards. Presumably they are being given to Michelle but she has not had a single word from her. She has tried repeatedly to make contact, but has heard nothing back. It is very sad.
"It is hurting her. She is her mother and never gave up hope that she was alive."
As RadarOnline.com previously reported, all three survivors — Michelle, Amanda Berry and Gina DeJesus -- thanked the public for their support via a YouTube video that Michelle's mother, who lives in Florida, wasn't even aware of until a friend told her about it.
The family insider tells the Mail that Barbara is "very hurt" that Michelle refuses to see her or even have a conversation on the phone with her.
Article continues below advertisement
Unlike Michelle, both Amanda and Gina had emotional reunions with their families shortly after being rescued from Casto's home.
Barbara flew into Ohio from Florida and went to the hospital where Michelle was at the time, but she refused to see her mother and had authorities turn her away.
"Barbara was very hurt. She had taken her 10-year-old daughter Katie to Cleveland so that she could meet her sister. After a week she had to send Katie back to Naples so she could go back to school," the source continued.
"All Barbara wants is to see Michelle. Yes, there were things that went on in the past but she wants to move on and move forward."
According to the family insider, Barbara received public criticism after it was revealed she didn't have a single photo of Michelle when she was found — but despite being labeled a "bad mother," she has turned down several lucrative offers from TV networks to speak out about her daughter.
Article continues below advertisement
"Barbara is not interested in money. All she wants is to be reunited with her daughter," the source said.
"When she is ready to talk it will be on her terms."
The three women, including a daughter Amanda had given birth to, were rescued May 6 after being held captive there since the early-2000s. Michelle had been missing 11 years (since Aug. 23, 2002), Amanda 10 (April 21, 2003), and Gina nine (April 2, 2004).
Castro, and ex-school bus driver, plead not guilty to 329 counts against him, including aggravated murder, kidnapping and rape.