Ariel Castro Deemed Mentally Fit To Stand Trial, Denied Visitation Request With Amanda Berry's Daughter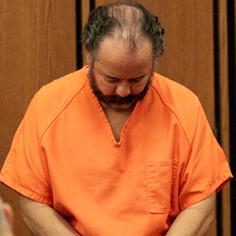 Cleveland kidnapper Ariel Castro may be delusional, but he's fit to stand trial. That's what Cleveland judge Michael Russo decided today in a pre-trial hearing for Castro's ongoing kidnapping and murder trial.
Castro stunned the courtroom when he raised his voice to request visitation with the 6-year-old daughter he had with Amanda Berry as a result of raping her.
"I just think that would be inappropriate," Judge Russo said.
Article continues below advertisement
Despite his unthinkable request, Castro was declared fit to stand trial.
The case will proceed with a meeting on July 11 to discuss the possibility of seeking the death penalty for Castro, who is currently being held on an $8 million bail for kidnapping Amanda Berry, Michelle Knight and Gina DeJesus and keeping them held captive for the better part of a decade.
So far, Castro has plead not guilty to the 329 counts facing him, but he may change his statement, according to reports, if the death penalty is ruled out.
The trial is currently scheduled to begin on August 5.
His victims are currently rebuilding their lives, as RadarOnline.com has reported.