Exclusive
See Cleveland Kidnapper Ariel Castro's Jailhouse Log! Plus, Fresh Criticism for Amanda Berry 911 Dispatcher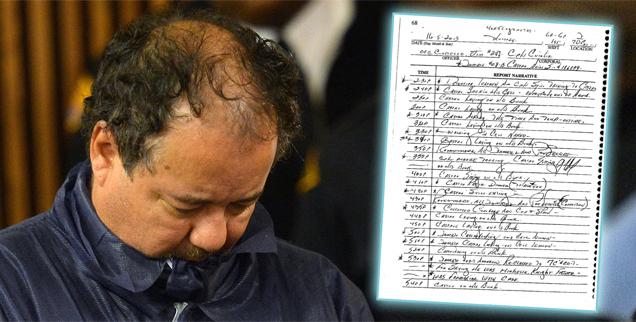 New details have emerged from inside the Cleveland jail where alleged kidnapper Ariel Castro is being held captive like the women he is charged with keeping in chains for years. A copy of a recent police log obtained exclusively by RadarOnline.com details Castro's bizarre behavior and the talk among other inmates about his hideous crime.
The jail log from May 16 "shows Castro walking around naked," investigative reporter Scott Taylor of 19 Action News, who viewed the log and took the photo shared with RadarOnline.com, explains. "Castro is still on suicide prevention watch and is asking guards what the temperature is outside."
Article continues below advertisement
In just a short time, the jail's most infamous inmate is already the talk of the cellblock. Another inmate had to be reassigned, Taylor reveals, because he was claiming to be the father of Michelle Knight, who was held captive with Amanda Berry and Gina DeJesus in Castro's house of horrors.
The man, however, is around the same age as Knight, police officials told Taylor, and is not her real father.
And in yet another shocking revelation from inside the investigation, Taylor tells RadarOnline.com that the police dispatcher who has come under fire for his apparently brusque behavior to Berry had instant access to a Cleveland Missing Persons Database that would have instantly highlighted the urgency of the call.