Outrage: Ariel Castro Claims Sex Was Consensual, As Victim Michelle Knight Bravely Tells Court She 'Spent 11 Years In Hell'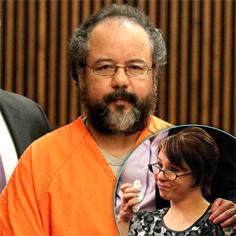 As Ariel Castro was sentenced to 1000 years plus life behind bars without the possibility of parole on Thursday, his victim Michelle Knight bravely addressed the court and told the man who tortured her that he is going to "face hell for eternity," while he shockingly told the court that the sexual abuse he inflicted upon the women was "consensual."
Wearing a black, white and gray blouse, Michelle stood in front of the Cleveland judge and cried as she began her statement against her captor.
Article continues below advertisement
"I cried every night. I was so alone. I worried what would happen to me and the other girls every day," she said about her harrowing ordeal at the hands of Castro.
"You took 11 years of my life away. ... I spent 11 years in hell. Now, your hell is just beginning.
"You will face hell for eternity."
She spoke about her young child, saying "I missed my son every day. I wondered if I was ever going to see him again."
Michelle said that Castro taunted her while he held her against her will.
"I knew no one cared about me – he told me my family didn't care about me."
Michelle spoke about her fellow captor Gina DeJesus, saying: "Gina was my teammate. She nursed me back to health when I was dying from his abuse."
Castro also held Amanda Berry against her will and fathered a child with her.
"You deserve to spend life in prison," Michelle told him.
Article continues below advertisement
"I can forgive you, but I will never forget," Michelle told Castro.
She revealed the horrifying detail that Castro would go to church on Sundays and "come home to torture us."
Michelle said she "will overcome what happened.
"I will live on. You will die a little every day."
Michelle also showed her strength when she said: "After 11 years, I am finally being heard, and it is liberating."
Judge Michael J. Russo sentenced Castro to life in prison without the possibility of parole during the hearing in Cleveland on Thursday.
A defiant Castro gave a statement where he disavowed many of the charges, shockingly telling the court "I am not a monster," and saying that the rapes were "consensual," even telling the judge his three captors "would ask me for sex. Many times."
Castro turned to Michelle during his statement and said "You guys know all the harmony that went on in that home."
He also denied violently abusing his victims, saying "I never beat the women like they say I did. I didn't torture them."
Article continues below advertisement
Castro said " I simply kept them there without them being able to leave."
He did apologize, saying "I just hope they can find it in their hearts to forgive me," but continued to argue with the judge saying he didn't "force" himself on the victims, "that didn't happen."
The judge told Castro that he would never be allowed to speak with the daughter he fathered with Amanda Berry or any of the other victims and thanked Michelle Knight for her "remarkable restraint" during Castro's statement.
Watch the video of Michelle addressing the court and her captor's denials about the depths of his crimes on RadarOnline.com.