Exclusive
'Teen Mom' Farrah Abraham Enters Rehab For Alcohol Abuse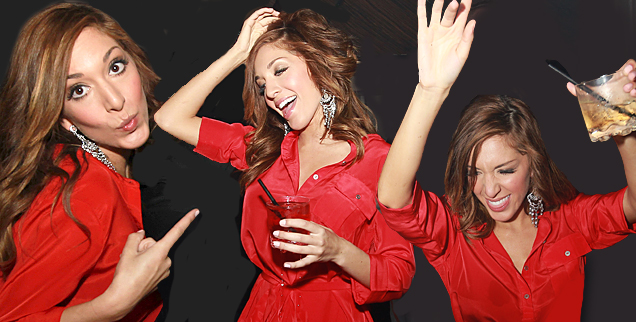 Farrah Abraham checked into a Florida rehab facility late Sunday night, the former Teen Mom star confirmed to RadarOnline.com exclusively.
The single mother-of-one, who graduated from innocent MTV starlet to raunchy porn star with the release of Backdoor Teen Mom sex tape in May, has entered an outpatient program to deal with alcohol abuse and to focus on her sobriety.
She will undergo intensive counseling over the next 10 days at The Lukens Institute, a luxury center, in Palm Beach Gardens, Fla., beginning Monday.
Article continues below advertisement
Describing it as a preemptive step to ensure that she continues on the right path, the 22-year-old told Radar: "At this time in my life, I need to stay focused on the positive to get through all of the negative that a DUI has caused in my life."
"I'm 22 and I want to make better choices and ensure I can recognize when I am putting myself in a bad situation next time," she added.
In March, Farrah was arrested in Omaha, Neb., after allegedly blowing a .147, nearly twice the legal blood alcohol limit of .08 percent.
Following her arrest, Farrah was placed on six months probation and already ordered to complete an alcohol education course.
Although she recently passed the course, the director of the Texas-based program noted Farrah "had difficulty making eye contact, was standoffish and was sarcastic when answering the questions asked of her," according to a document provided to Radar.
She recommended Farrah complete 60 hours of intensive outpatient treatment, followed by 12 months of after care.
Article continues below advertisement
"Ms. Abraham does meet the criteria for substance abuse," Austin Drug & Alcohol Abuse executive director, Phyllis K. Moczygemba, wrote in the report.
The out-patient treatment means that while Farrah remains free to go about her daily life, she will be monitored by a sober companion.
The treatment will cost the XXX reality star more than $12,000, a source said.
Her four-year-old daughter, Sophia, will remain at home and under the care of Farrah's dad, Mike, while she receives treatment.
MORE ON:
Celebrity Justice
Article continues below advertisement
"It was St. Patrick's Day and I was out with my sister. I did not plan to drink because I was sick, so I took the role of being in charge and making sure my sister and I would return home together and safely," Farrah said. "At 10 p.m., I tried to leave and at that time, my sister was not ready to leave, so I had been sipping on drinks to pass the time."
When her sister was ready to leave around 12:30 a.m., she refused to walk to the car. In the interest of keeping the peace, Farrah went to get her car to pick up her sister but, when she noticed police in the area, she decided to park.
"When I was parked, a police officer asked me what I was doing, so I told him I was worried about my sister and I was trying to go home," Farrah said. "They insisted on the regular questions and asked me to get out of the car. I got out of the car and because I was upset, I yelled."
Interesting side-note: Farrah's classmate at Lukens -- a rehab center endorsed by Michael Lohan -- will be the habitually wasted Tan Mom, Patricia Krentcil, who checked into a 30-day program last week.