Exclusive
This Feud Won't End! Farrah Abraham To Charlie Sheen: The Drugs & Hookers Have Messed Up Your Head, You Old Train Wreck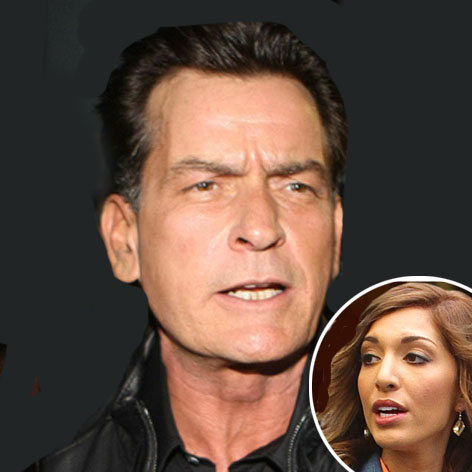 Charlie Sheen and Teen Mom porn star Farrah Abraham seemed to have common interests (he likes porn stars, she just made a porn movie) but instead their fledgling friendship has turned into a scorching game of character assassination.
Farrah has just lashed back at Charlie in a message obtained exclusively by RadarOnline and we've got to admit while Charlie's insults were poetically colorful, Farrah takes a more direct approach.
Article continues below advertisement
Farrah contacted Charlie last month and he responded but when the messages leaked online he blamed her. In classic Charlie form the Anger Management star put her on blast with some highly colorful language including the opening line: "hey, you desperate guzzler of stagnant douche agua."
Maybe the generation gap (he's 47, she's 22) is the reason for their different and unique style of destroying each other, but here, exclusively to Radar, is Farrah's response to Charlie after his insults about her sharing their messages:
"That's right Charlie you never did tell me I could share my own texts with anyone - it looks like you have control issues because I can do whatever I want and I have nothing to hide maybe you do.
"I think all the drugs, fame, money, alcohol, and whores messed with your head because your bashing response to me is really uncalled for and makes zero sense.
"You sound like you have mental issues, (hints maybe you need some anger management counseling) given your disgusting lash out towards my body and my relationship with my daughter which each are both the epitome of perfection,
Article continues below advertisement
"So for a old train wreck like yourself you sit in your own pedestrian troposphere of lame-suck and zero-life, enjoy your dwindle and I wish you all the best at being a good male figure for your children who really need a good male role model in their lives.
"As well I hope those call girls, pornstars, and goddesses you have around and pay are worthy because its sad you can not have a stable relationship to show your children a good example.
"I was only being friendly with Charlie because Anger Management contacted my rep and so I thought it would be good to reach out and spend some civil quality time apparently that's not possible and I will be strictly professional and not speak to other talent in the future because I do not need to be bothered by their crazy personal lives and horrible personalities. I have a bright future ahead of myself I do not have time for this nonsense of drama."
Article continues below advertisement
And now for Radar's instant analysis!
Farrah tries to emulate Charlie's style with her "troposphere of lame-suck and zero-life" and while we have no idea what that means we don't think it works.
But she does score points by reminding everyone of his issues with hookers and drugs.
Her strongest volley is calling him an old train wreck because despite the fame inequity present in this non relationship, she's still 22 and he's 47 and no amount of eloquence on Charlie's part will change that!
Still, we're pretty sure this isn't over and Charlie will overcome the age insult with something worthy of his tiger blood.