Farrah Abraham On Her DUI Arrest: 'I Was Sick, Not Drunk!'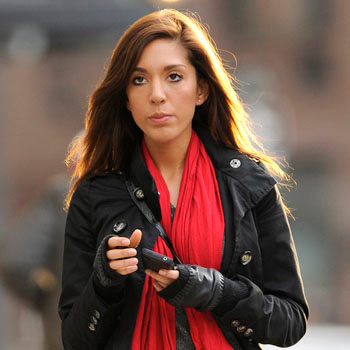 Sickness, coughing and a "shortage of breath" are the reasons Farrah Abraham failed a breathalyzer test the Teen Mom is claiming in her first interview since she was arrested for drunk driving last week.
Speaking exclusively to In Touch Weekly, the 21-year-old gave her explanation of what happened on March 18 when police questioned her after a night out in Omaha, Nebraska.
"It was St. Patrick's Day and I was out with my sister," the mom-of-one says.
Article continues below advertisement
"I did not plan to drink because I was sick, so I took the role of being in charge and making sure my sister and I would return home together and safely."
But Farrah says the night got complicated when her sister wanted to stay out. So, rather than leave without her, the single mom quenched her thirst with alcohol while she waited.
She says: "At 10 p.m. I tried to leave, and at that time, my sister was not ready to leave so I had been sipping on drinks to pass the time."
Farrah says that when her sister was ready to leave two-and-a-half hours later she refused to walk to the car.
In the interest of keeping the peace, Farrah went to get her car to pick up her sister but, when she noticed police in the area, she decided to park.
"When I was parked a police officer asked me what I was doing, so I told him I was worried about my sister and I was trying to go home," she says.
Article continues below advertisement
"They insisted on the regular questions and asked me to get out of the car. I got out of the car, and because I was upset, I yelled."
Breathalyzer test results later proved the reality TV star had a blood alcohol level of .147, which is almost twice Nebraska's legal limit of 0.08.
But Farrah says illness, not booze was the problem. She says: "Because I'm sick, I could not give an accurate breathalyzer test, due to coughing and shortage of breath.
"I have a lawyer and all will work out with my ticket."
Farrah's account differs wildly from official reports. As RadarOnline.com previously reported she was arrested after allegedly nearly careering into a police car after a sloppy turn.