Exclusive
What A Mess! Drunk Tan Mom Butchers Rihanna Song At N.J. Restaurant, Stuns Diners With Foul-Mouthed Rant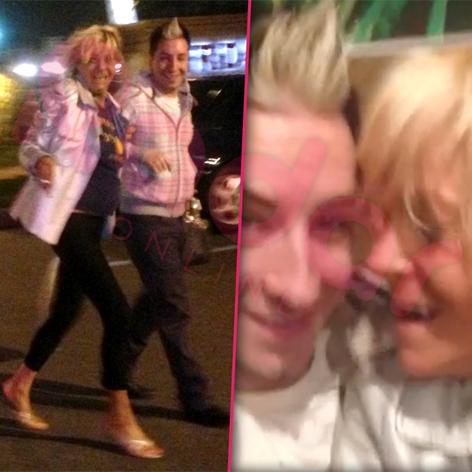 New Jersey's train wreck "Tan Mom" sunk to a new low last Thursday, performing a bad (very bad) karaoke version of Rihanna's chart-topping "Diamonds" at a New Jersey restaurant, and only RadarOnline.com has the video.
Faked baked Patricia Krentcil then lit up a cigarette inside Zinburger in Clifton, N.J. and unleashed a verbal tirade at two stunned diners, telling them: "Do you have a f*cking problem. You need to shut the f*ck up."
Article continues below advertisement
Krentcil, 44, was knocking back dirty martinis before her impromptu performance and meltdown.
And the whole drunken episode was caught on video which you can watch exclusively on RadarOnline.com.
Krentcil, who was arrested last year after her 5-year-old daughter allegedly suffered burns at a tanning salon, was dining with musician Adam Barta and John Picinic, the star of History Channel's Big Rig Bounty Hunters.
In the video, Picinic can be seen trying to convince the mother-of-five to sober up before she tries to plant a sloppy kiss on him.
"Stop drinking... no more dirty martinis for you," he told her.
In an exclusive interview, Picinic told RadarOnline.com it was the first time he met Krentcil -- the pair was introduced via Barta -- and she was "toasted."
"She was a nice lady but she was all over the place," he said.
Article continues below advertisement
radar_embed service=5min.com src="http://pshared.5min.com/Scripts/PlayerSeed.js?sid=1126&width=570&height=351&playList=517746013&sequential=1&shuffle=0"
Barta said he was meeting with Krentcil to discuss Tan Mom's plans to record a song about her scandalous child-tanning case.
"It was a business meeting," said Barta, who also received a Krentcil kiss.
"I think she was more nervous than drunk because when she arrived, she was very high energy.
"She only had two drinks when I was with her, but she didn't eat anything. Perhaps that's the reason why she got so tipsy."
A source who was at the restaurant added, "She was loud and obnoxious with the waitress. At one point, she started screaming at two women who were sitting at the table next to her.
"She yelled, 'Do you have a f*cking problem. You need to shut the f*ck up.'"
Added the onlooker: "Tan Mom was falling out of the seat and everyone in the venue were turning their heads away from her."
Article continues below advertisement
It's not the first time the ultra-bronzed woman has been a public disgrace; last August, she appeared at a New York nightclub and flashed her underwear, reportedly attacked a drag queen and fell over on the red carpet before dancing drunk onstage.
After that incident, Krentcil's husband Rich tried to downplay that drama.
"It was a little wild, a little crazy. She feels a little bad," he said, adding: "Maybe she overdid it. But she doesn't go out much."
As for her planned music debut, asked whether he would still work with Krentcil, Barta told RadarOnline.com: "That remains to be seen. I don't know."